Another day, another trip to Dad's storage unit. I thought my Dad had a ton of golf clubs, but that's nothing compared to his collection of CDs. We took home at least 13 boxes of CDs and eight bins of books.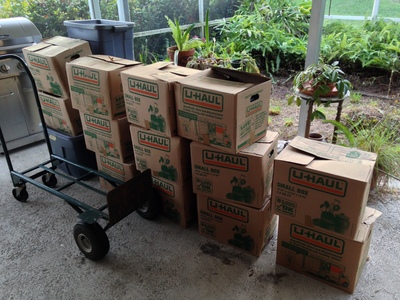 Bunny and I were of two minds about dealing with all the CDs and books. After loading both our vehicles, I was just ready to drive to the nearest used CD shop and probably double their inventory. Bunny thought we should at least look through them first. I initially overrode her idea and called two different shops. The first one no longer buys CDs, and the second one told me to call back after the holidays when he needed to restock.
Sigh.
So now we have boxes and boxes of CDs at home that we're going though. If you need any New Age East Asian meditation neurohacking music CDs, I'm your connection.
---
We're slowing going through the boxes and boxes of books and music. "Get a load of this book before I drop it in the garbage," said Bunny, dropping an 8″ × 10″ × 1½″ book on my lap.
I glanced at the title. "The Neo-Tech Discovery (Zonpower)—huh." I then started flipping through the book. Multiple fonts, hand written script, wide margins. It just looked crazy! "Let's see … 'Commercial, non-aging I-ness immortality is achievable within our lifetime. But that achievement depends on collapsing the 2000-year hoax of mysticism and eliminating all its symbiotic neocheaters. The Neo-Tech Research and Writing Center is already undermining the hoax of mysticism worldwide and will forever cure that disease of death without anyone's support, without asking anyone to donate time or money, and without permission or control by anyone.'"
"See, it's garbage."
"Hold on, let me check something … " I turned to the computer and went to Amazon. "Wow! Amazon is selling it for $200!"
"What?"
"See?"
"I don't believe it!"
"Trash indeed!"
---
Not only did Dad keep every golf club, CD and book he ever owned, but also every pair of glasses, numbering at least a dozen.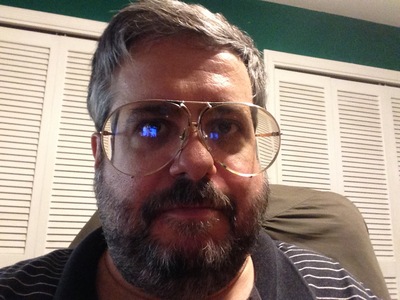 For a guy that wanted to live a minimal lifestyle, he sure kept a lot of stuff.
Also, our garage now smells of stale cigarette smoke. Blech.