Today I learned that my fellow cow-orker JC is leaving The Company at the end of next week. So, with JC leaving, my manager leaving Real Soon Now™ and with the QA engineer having already left, that leaves … um … me!
Wow.
I have a lot of training ahead of me …
I've had a Google email account now for sixteen years. I don't use it for anything, preferring to run my own email server, thank you very much. And even after all this time, I still get email for other Sean Conners (that is, a number of other people called "Sean Conner," not one person called "Sean Conners").
I recently received an email for Sean Conner that consisted of nothing but pictures of a pickup truck. And another one trying to remind me that my mom is turning 90 this year. Or my Aunt Marge. It was kind of hard to make out how I was supposed to be related to Marge, despite the fact that I have no Aunt Marge, nor was my mom called Marge.
Most of these I reply back in a straightforward manner informing the sender that they have mistaken my email address for that of their Sean Conner. But one message I got though …
From

Jen <

XXXXX­XXXXX­XXXX

@gmail.com>

To

<seanconner@gmail.com>

Subject

RE: Sean

Date

Sat, 31 Oct 2020 23:56:00 -0500

Sean, are you near Tuxedopark?
It had been three weeks since that came in. And the word "Tuxedopark" just screamed a custume shop, or maybe formal wear. The fact that it was sent on All Hallow's Eve just cemented the connection in my head. Anyway, for this one, I just didn't feel like a straight forward reply was enough, and I decided that a surrealistic reply was called for.
From

Sean Conner <sean.conner@gmail.com>

To

Jen <

XXXXX­XXXXX­XXXX

@gmail.com>

Subject

RE: Sean

Date

Fri, 20 Nov 2020 04:53:00 -0500

Wow! That was weird! I was near Tuxedopark to rent my costume when this portal just popped into existence and swallowed me up. I can't go into details about what happened because I would be here all night, but I finally got out. Who won the election? Who's the President? Do you know?
I was expecting one of two things here—one, that I would start engaging in a very surreal conversation about my adventures across the 8TH dimention to a very confused Jen, or I would hear nothing back. Instead I got:
From

Jen <

XXXXX­XXXXX­XXXX

@gmail.com>

To

<seanconner@gmail.com>

Subject

RE: Sean

Date

Fri, 20 Nov 2020 06:39:00 -0500

Sean, I live near you!
My name is Jen, I am 31, and still very pretty
My pics are in my profile on this site: http:XXXXX­XXXXX­XXXXX­XXXXX­XXXXX­XXXXX­XXXXX­XXXXX­X

Sign up there, it is free!
and find me, my nickname is Jenn_C!
A crummy commercial? Son of a XXXXX! Come on Google! I thought you were supposed to be good at catching spam!
I start up (for the third time this week) the Corporate Overlords' mananged Microwoft Windows laptop. Upon logging in, I see a popup message saying "Your organization requires you to restart this laptop within the next four days."
At this point, I just have to laught at the insanity of this.
So it seems there's this mass exodus away from Face­Twit­Book­Ter with a large portion heading towards MeWe and Parler. I know a few people who have moved towards Parler, and I thought I would take a look at what's up over there.
Of course, if you aren't a member, you can't see much by default—sadly, that doesn't surprise me at all. All these social media type sites want users and what better way than by locking everything up into a walled garden.
So let's see what their User Agreement says:
5. You grant to Parler a license to any content posted by you to the Services, including a worldwide, non-exclusive, royalty-free license (with the right to sublicense) to use, copy, reproduce, process, adapt, modify, publish, transmit, display and distribute your content. You agree that Parler or its service providers or partners may display advertising in connection with your content and otherwise monetize your content without compensation to you. You warrant that you have all rights necessary to grant these rights to Parler and Parler users. You also grant a limited non-exclusive, royalty-free license to any user of the Services to use, copy, reproduce, process, adapt, modify, publish, transmit, display, and distribute any content posted by you to the Services solely in connection with that users use of the Services. The licenses granted by you hereunder do not include any moral rights or right of attribution.
Scary, but probably required to let people repost posts. Of course, there is Fair Use, but Fair Use gets tricky when the entire post might be 40 words long. Pay close attention to the "service providers or partners" bit—that will become important in a bit.
Continuing on then …
10. You agree to receive communications from Parler, including communications sent by phone, email, text message, or other means of communication. If you provided a phone number to Parler, you are required to notify Parler when you cease to own or control that number to help prevent Parler from sending communications to others who may acquire that number.
If you provide a phone number to Parler? If? There's no "if" here, it's required to sign up. That's the one thing that stopped me cold from creating an account. I get plenty of spam already to my phone, what with the two to three robo calls per day, and the dozen spam text messages over the past month (mostly trying to get me to vote for or against <insert bogey man here>) Email spam I already deal with, but crap like this to my phone? I don't need more crap like that to my phone.
So then there is this, right on the web site:
Parler believes in transparent relationships. We will always provide updates and notifications to keep you informed about changes to the platform.
That's nice. But it's when you dig into the User Agreement that things maybe aren't what they seem …
15. Parler may modify the Terms of this User Agreement in any way and at any time without notice to you, and you agree to be responsible for making yourself aware of any modification of the Terms and to be bound by any modification of the Terms when you continue to access or use the Services after any such modification. As a matter of courtesy, Parler endeavors to inform its users of any such changes …
They'll try their best, but don't hold them to "always provide updates." Even if they hold to always inform users of updates, who's to say that if they are aquired, the the aquiring company will maintain such a policy.
I'm just saying …
Also on their website, they say:
Any personal data shared with Parler is encrypted for your protection, and never sold to outside entities.
Which appears to be true—they won't sell your data, but they sure will give it away without much thought. They give away
location information
device information (including IP address, device type, browser type, operating system, phone carrier and installed applications)
usage information
your contacts (if you allow them to)
web cookies (along with their third-party partners)
to
vendors and select providers
marketing
analytics partners
It's all spelled out in their privacy policy. And it's pretty typical of all the social media sites.
Their community guidelines are fine—don't do illegal things or spam, and you'll be fine. Even their elaboration on said guidelines are fine—I don't see any real issues there.
It appears that right now, they aren't quite as bad as Face­Twit­Book­Ter, since they aren't as big. They're still bad though, collecting and diseminating user information just like other social websites. And if it weren't for the mandatory phone number, I might have signed up just to see what the fuss is all about. I did sign up for MeWe early last year (and while MeWe asks for a phone number, it isn't mandatory). I never used MeWe that much because it was glacially slow (and still is—I just checked).
Ah well, I'm just glad to have my own little corner of the Intarwebs that I control.
Bunny is in the other room watching TV. I'm trying hard not to pay attention to the noise when I hear the unmistakable voice of Raymond Burr mention the murder of Kirk Cameron, and I'm like What?
No, I heard correctly—Kirk Cameron was murdered.
Only it was Kirk Cameron, fictional character for the Perry Mason episode "The Case of the Illicit Illusion" and not Kirk Cameron, former child actor of "Growing Pains" and promoter of the crocoduck.
For just a split second, I thought 2020 just got a bit weirder …
---
I found out today that my Uncle Ed died.
On the one hand, the news is sad, but I am also relieved since he was suffering with a neurological disease for years.
Growing up, my Dad's parents (after my own parents divorced) would take me in for the summer in Royal Oak, Michigan (for the geographically impared, Royal Oak is just outside Detroit). Ed married my Dad's sister Jan, and they lived just a block and a half away from my grandparents house. What really stood out about their house was the six car garage Ed built (I recall him building it) to store the cars he spent his time restoring. There was also the two story play house he built for his kids.
Not only handy, he also had an incredible sense of humor and at times probably could have used some adult supervision himself, especially around fireworks.
Ah, the fireworks. He would trade glasses (he was an optician and was part owner of a glasses shop) for a ridiculous amount of fireworks every year. There was the time when a Roman candle fell over and started shooting at the garage, Ed kicked it and it started shooting at the neighbor's house. Then there was the time we went into the park behind his house and several fireworks ended up landing near the school on the other side of the park, and the ones that didn't hit the school nearly hit 12 Mile Rd.
Good times.
He was also my first real introduction to computers. One year I visited, he would occasionally take me into his office and let me play games on the Apple ][ he used for the business (oh, and sometimes I would have to clean the glasses before they were delivered to customers). I recall us both being affected by the ending of the classical text adventure game "Planetfall." And at his house, he had an ever increasing number of gaming systems, starting with the Bally Professional Arcade system back in 1979.
It's no wonder that his own kids are involved with carpentry and information technology.
So here's to Uncle Ed. And much love to Aunt Jan, and my cousins Seth, Levi and Mallory.
I use the Corporate Overlords' mananged Microsoft Windows laptop to log into the Corporate Overlord's VPN at least once a week to let it update itself and reboot it as many times as it wants (if I go too long, the Corporate Overlords' will assume the laptop has been stolen, remotely nuke it from orbit and swamp me with paperwork). I also use it to punch my timecard. I don't use it for programming because the Ft. Lauderdale Office of the Corporation uses Apple Macs for that.
Oh, and I use the Corporate Overlords' mananged Microsoft Windows laptop to attend meetings via Microsoft Teams. I use a web interface for work email—yes, it's Microsoft Lookout for the web and given that I use Apple Macs (and before that, Linux) at work, it was easier to use that than to try to interface a non-Windows email client with Microsoft Exchange. The meeting notices are sent via email and contain the link to the Microsoft Teams meeting.
Now the laptop, being managed, was "set up" so I could use it from the start. And for reasons I don't understand, there are two different versions of Microsoft Internet Exploder installed on the system, and they both show up on the program bar across the bottom of the screen. I found out the hard way that one of the two Microsoft Internet Exploders refuses to work with Microsoft Teams. I click the link and … no meeting, even when Microsoft Teams is already running! I nearly missed a meeting until my manager directly invited me via Microsoft Teams.
I learned that the second Microsoft Internet Exploder would happily connect to the meeting. All I have to do now is recognize which blue "E" to use to attend Microsoft Teams based meetings.
Another weird thing happened with the laptop—it was warning me that I wasn't using the proper power brick for charging and to please use the power brick that came with the unit. The only thing was, I was using the power brick that came with the unit.
Sigh.
The fix?
Use a different electrical outlet, I kid you not.
But by then, both batteries were less than 1% charged, and the computer was trying in vain to charge one battery for a few seconds, then the other battery for a few seconds, back and forth, back and forth.
Until it shut off.
At that point, I felt like I was computer illiterate, not knowing how to deal with this … this … thing in front of me. It's stressful that I'm working for the computer, and not with the computer.
It's a horrible feeling.
In the end, I let it just sit there and eventually, the batteries charged up. But I just can't shake this feeling that I'm computer illiterate when it comes to this computer.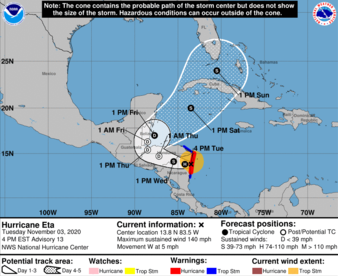 Of course it is.
---
On the walk to the polling station, I saw a few signs that I found amusing.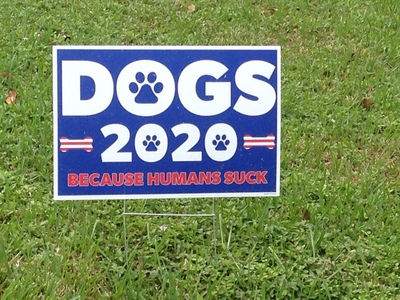 And in the yard of the house with the warning sign: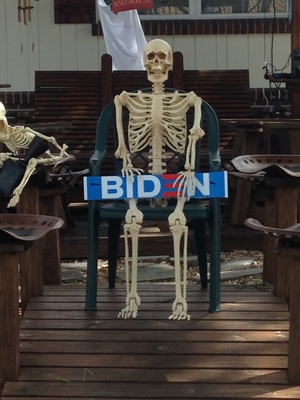 And in some other election news, I wonder how Velma Owen is doing in the elections …
---
So.
The 2020 Presidential Election is over, at least for me. What ever happens, happens, and I'm going to avoid all news for the next day or so just to preserve what's left of my sanity.
And like last time, I (along with Bunny) walked to the polling station, and despite it being the most crowded I've seen, we didn't have to wait to vote. We were in and out in under ten minutes.
I just hope that whoever wins, wins by a landslide.