A mailing list I'm on had this following exchange:
holy crap

Believing this term to be some bit of jargon that I am ignorant of, I googled it. It is marketed as being edible.
And yes … it is edible. And amazing, in the "I am a amazed this even exists" sense of "amazing."
I am at a loss for words.
What do you think of your historic nomination against human opponents in this contest?

I was pretty excited.
I think I can see the feathers when they release their hearts. It's like a breakdown of the facts. So they should be competent with the fact that they won't be surprised.

What is the future of machine written entertainment?

It's a bit sudden.
I was thinking of the spirit of the men who found me and the children who were all manipulated and full of children. I was worried about my command. I was the scientist of the Holy Ghost.

What's next for you?

Here we go. The staff is divided by the train of the burning machine building with sweat. No one will see your face. The children reach into the furnace, but the light is still slipping to the floor. The world is still embarrassed.
The party is with your staff.
My name is Benjamin.

Via FaceGoogleMyBookPlusSpace, Movie written by AI algorithm turns out to be hilarious and intense | Ars Technica UK
So … is NaMoGenMo far behind?
The actual movie (on the page above) is "eh." I found it interesting to watch, but that's me. I suspect that most people who aren't into computer generated "art" will find it all that good, or even comprehensible. The "plot" of the movie wasn't necessarily in the screen play—what you see is an interpretation by the director and actors. And how do you interpret a stage movement like "stand in the stars and sit on the floor at the same time"?
I found the article itself more interesting as it talks about the intersection between human and computer generated "art."
And I think it's hilarious that the AI itself outvoted the other bots voting in the contest. I guess it really wanted to win.
Two months later and we're still waiting to install updates to "Project: Sippy-Cup" into production. We were finally given the "okay" this week, but have twice scrubbed the launch deployment because … "reasons."
Sigh.
So there's very little for us (the Call Processing team at the Ft. Lauderdale Office of The Corporation) to do this week. And because of that, I've started back to work on a small geometry problem that floated around the office some time last year—find "x":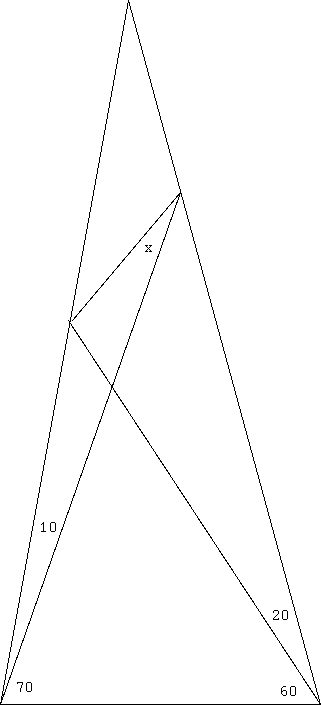 I can't be that hard, right? All you need to solve it is geometry. You know, the interior angles of a triangle sum to 180°, what constitutes congruent triangles, all that stuff you should have learned in the 10th grade but have probably forgotten by now.
Um … yeah.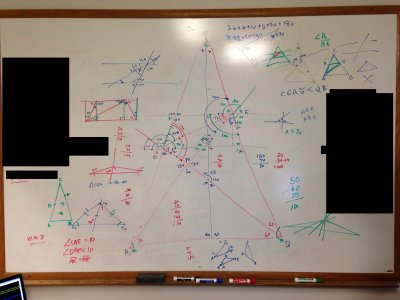 Fellow cow-orker T didn't solve it (and took a copy home for his son to work on). T2 solved it by using trigonometry. And it took a few hours of hashing it out between myself and R to get a purely geometric solution to it.
One of the things my dad comments on these days is the preponderance of restaurant patrons peering into their smart phones or tablets, ignoring everyone else, which is okay, because everyone else at the table is peering into their smart phones or tablets. Even though they're eating together, they are still eating alone.
One of the things that still gets me is the preponderance of televisions in restaurants. I find them terribly distracting and very hard not to watch. I can somewhat understand a sports bar having them to show sporting games, but McDonalds?. The worse offender I've found is The Flashback Diner which has a television per booth!
Insane!
So what do Bunny and I find tonight at Olive Garden?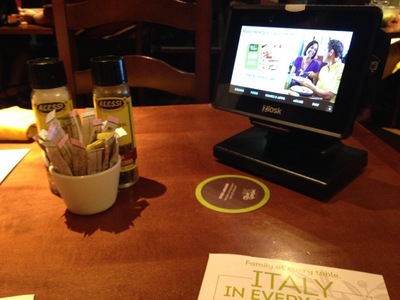 A Ziosk on every table.
Apparently they've been around for a few years and so far, Bunny and I have managed to avoid the restaurants that have the darned devices.
In theory, it seems like a Good Thing™. You can place orders for drinks and desserts through the device. And you can signal for the server (I presume some sort of signal is sent to the kitchen or the server lounge or something but all we noticed is a red light flashing on top of the unit when we did this) and pay the check (the previous party at our table still owed 7¢—how I do not know). But the incessant advertising for food, drinks and "pay-for-play" games just got to be too much (even though the unit itself was thankfully quiet).
We ended up turning the device to face away from us.
I don't know. It just bugs me on some level. Do we as a nation have the attention span of a rabid ferret—oooooh! Shiny!
"Oh no!"
"What?"
"Now I'm earwormed!"
"With what?"
"Save a horse, ride a cowboy."
"Wasn't that the plot to 'Brokeback Mountain?'"
It's night. It's more a monsoon than a heavy rain. The thunder is deafening. There are lightening bolts slamming into the earth every few seconds. I'm driving in a construction zone. And every other driver out there is an idiot with their hazzard lights blinking.
I'm having way too much fun for the driving conditions. What a blast!
We're home now. The drive was pretty uneventful until Jacksonville. As I was filling up the car, some guy in an unmarked white van tried to sell us frozen steaks (no, really!). But despite the lack of good steaks recently we decline to buy any.
We then hit very heavy traffic through downtown Jacksonville and by the time that cleared up, we were in the middle of a monsoon for the next eighty miles. After that, it was clear skies all the way to Chez Boca.
Now we collapse.
This is our last day in Brevard and we took it easy. We had lunch with an old friend of mine who lives in town. For dinner, we went to Binion's Roadhouse, a place we liked last time we ate there.
I'm not sure what's going on in North Carolina, but it seems we cannot get a good steak in this state. Ribeye. Medium rare. It shouldn't be that difficult. Tonight, shoe leather—twice! At least the second one had a bit of medium on it.
Sigh.
Tonight we pack and then tomorrow—driving! Lots and lots of driving.