We are home.
We missed my ETA by one minute—had a driver not cut in front of us and slowed down to 40mph on I-95 just as we were approaching our final exit, we would have arrived home at 10:20 pm instead of 10:21 pm. Stupid slow driver! Other than that, it was an uneventful 12 hour drive, give or take a few minutes.
Anyway, a picture of the former house at 279 Probart Street as of yesterday: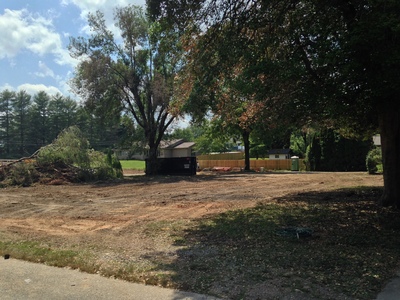 I do say, it's largely gone.
And thus ends our yearly adventure in Brevard. (As a side note—man is it nice to get back to a real keyboard again.)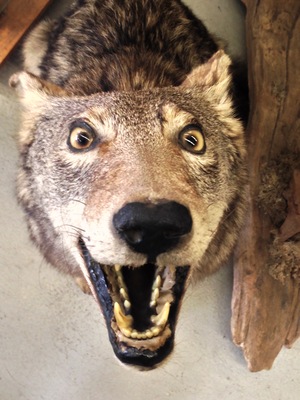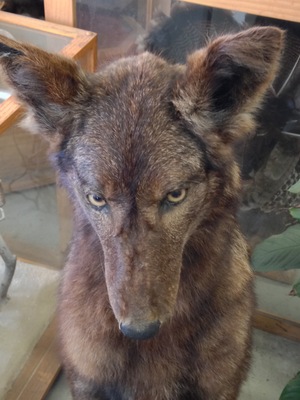 It's bad enough when the white squirrels are using abominations to take over the world, but now Slenderman is in town: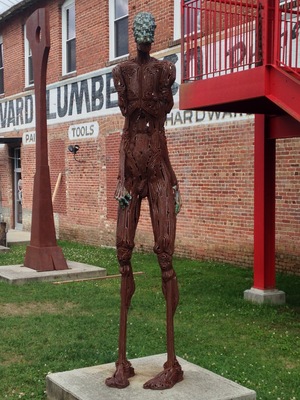 Then again, this is Transylvania County …
Because of our little jaunt into Tennessee we ended up having a late dinner in Brevard, where "late" is "after 9:00 pm when the sidewalks roll up."
The late-evening eating establishments are rather limited, which is why we found ourselves eating at The WaffleHouse at 11:30 pm on a Friday night. I swear, I never thought I would have the following coversation:
"Ooh, it looks busy."
"Do you think we'll have to wait for a seat?"
"I hope not."
We did not have to wait, as we grabbed the only two seats left at the counter.
There, we met with our waitresses, Kloey, with a "K" and Fur Ball (yes, "Fur Ball" was the name on her tag), which is a nickname given to her when she was 15 years old. I kid you not.
---
Bunny and I made the trek out to Sevierville, TN to visit Tennessee's largest flea market. Overall, it was "meh" and nothing at all what we were expecting. I'm not sure what we were expecting, but what we found wasn't quite it.
But that's not to say it wasn't amusing, like this interesting gask mask: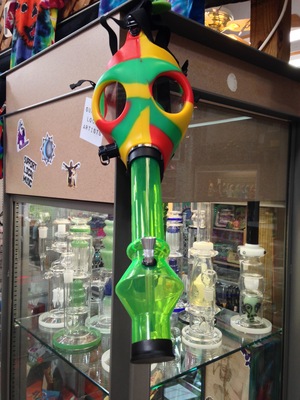 And just a few booths down from that, we hit a bookstore with both kinds of fuction, westerns and Amish: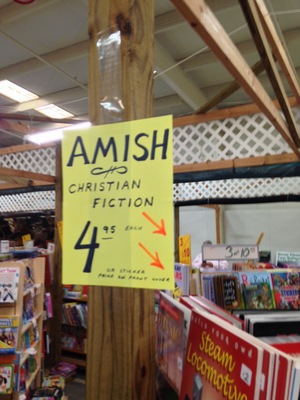 And no, I am not making that bit about "both kinds of fiction" up—the clerk explicitly stated that as a direct quote. I did not handle any of the fiction, lest it burst into flames upon my touching it. The Amish theme kept going with this booth: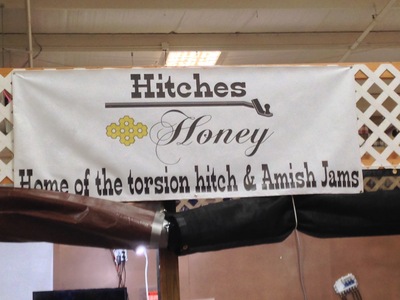 Yes, this booth would supply your trailer hitching and Amish honey and jam needs. Need I say more? Well, I could but I'm not sure if I should. And when did Tennessee become such a hotbed of Amish activity? Did I not get the memo? I must not have gotten the memo.
Just randomly, I saw several of these signs hanging from the ceiling: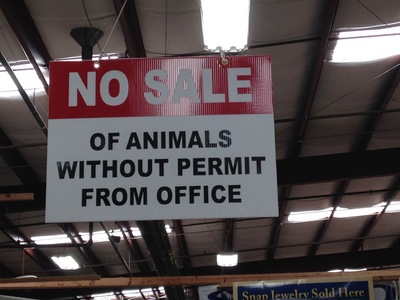 At first, I thought that anyone wanting to buy an animal had to obtain permission from the office, so they could make sure the customer is capable of taking care of marmosets, sloths or whatever other livestock was being sold, but upon reflection, this sign could be a notice for the sellers, to make sure they aren't selling illegal wolverines, pangolins or alligators.
I also found amusing the number of booths selling cleaning products. We got accosted early on by one woman hawking a cleaning product. She mostly talked to Bunny, and every other word out of her mouth was "ma'am." Every other sentance was "You can drink this stuff, but it wouldn't taste very good." Nice to know, I guess (and it turned out, every cleaning product being hawked at the half dozen or so other booths were all "drinkable, but you wouldn't like the taste"). And I have no idea if the Amish would use such products.
So Bunny and I came across this lovely bit of signage in downtown Brevard: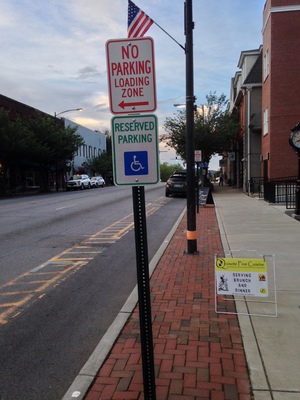 So which is it? Loading, or parking? Or loading of wheelchairs for parking? Or parking for wheelchairs to be loaded? I'm so confused!
Walking along Main street I came across this odd doorway: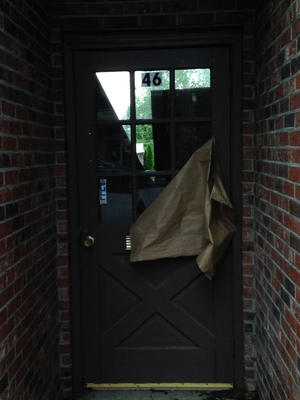 If you look closely, you can see some trees on the other side of the door. Intrigued, I went around to the other side of the building and found it was just a front: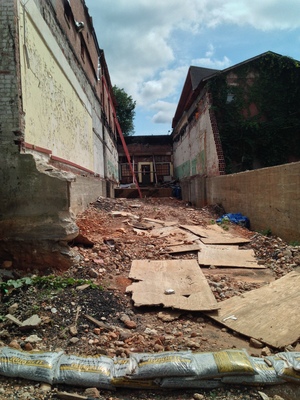 I guess it makes Main Street look better if there isn't an obviously missing building.
You can't throw a stone around here without hitting a church. As a result, some of them have a very unique design: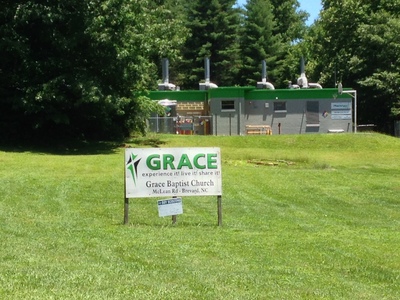 It's either a very daring design, or they'll turn anything into a church around here.
---
Bunny managed to get a picture of the house across the street before yesterday's training exercise: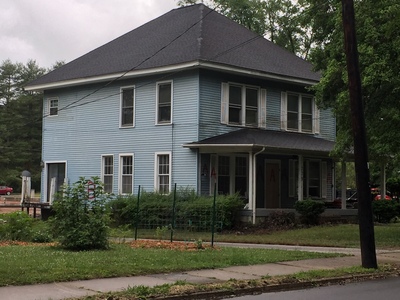 Photo by Bunny
And the house as it "stands" today (pun intended):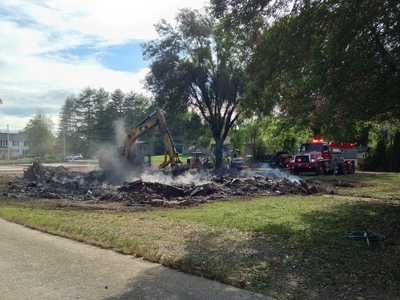 We're told it should all be gone by Saturday. We'll see.