At work, I test the various components of "Project: Wolowizard." These tests usually require running multiple copies of a program on a single computer. I use Lua (with help from a module) to start and monitor the programs being tested. The code starts N copies, and if any of the programs crash, the reason is logged. It's fairly straight forward code.
Now, one of the compents of "Project: Wolowizard" was updated to support a new project ("Project: Sippy-Cup") and that component is occasionally crashing on an assert, but the problem is: there are no core files to check.
And I've spent the past two days trying to figure out why there are no core files to check.
The first culprit—have we told the system not to generate core files? Yup. The account under which the program runs (root) has a core file size limit of zero bytes. There are a few ways to fix this, and I picked what to me, was the simplest solution: in the Lua script that runs the programs, set the core file size to "unlimited." And this is easy enough to do:

proc = require "org.conman.process"
proc.limits.hard.core = "inf"
proc.limits.soft.core = "inf"

Slight digression: you can set various resource limits for things like maximum memory usage to core file size. The hard limit normally can't be changed, but the soft limit can—any process an lower a limit. But a process running as root can raise a limit, and raise the hard limit. Since the program I'm running is running as root, setting both the hard and soft limits to "infinity" is easy.
But there was still a disturbing lack of core files.
I checked the code of the Lua module I was using, and yes, I flubbed the parsing code. I made the fix, my tests showed I got the logic right, installed the updated module and still, no core files.
I did a bunch more tests and checked off the following reasons for the lack of core files: it wasn't because the program dropped permissions; it wasn't because the program couldn't write the core file in its current working directory; and the program is not setuid. It was clear there was something wrong the module.
I was able to isolate the issue to the following:

struct rlimit limit;
lua_Number    ival;

/* ... */

if (lua_isnumber(L,3))
  ival = lua_tonumber(L,3);

/* ... */

if (ival >= RLIM_INFINITY)
  ival = RLIM_INFINITY;
  
limit.rlim_cur = ival;

Now, lua_Number is of type double (a floating point value), and imit.rlim_cur is some form of integer. ival was properly HUGE_VAL (the C floating point equivalent of "infinity") but limit.rlim_cur was 0.
But it worked on my home system just fine.
Then it dawned on me—my home system was a 32-bit system! That was the system I did the patch and initial test; the systems at work are all 64-bit systems. Some digging revealed that the definition of RLIM_INFINITY on the 64-bit system was

((unsigned long int)(~0UL))

or in other words: the largest unsigned long integer value. And on a 64-bit system, an unsigned long integer is 64-bits in size.
I do believe I was bit by an IEEE 754 floating point implementation detail.
Lua treats all numbers as type double, and on modern systems, that means IEEE 754 floating point. A double can store 53-bit integers without loss, and on a 32-bit system, you can pass integer values into and out of a double without issue (32 being less than 53) and because I did my initial testing of the Lua module on a 32-bit system, there was no issue.
But on a 64-bit system … it gets interesting. Doing some empirical testing, I found the largest integer value you can store into a double and get something out is 18,446,744,073,709,550,591 (and what you get out is 18,446,744,073,709,549,568—I'll leave the reason for the discrepancy for the reader); anything larger, you get zero back out.
So, no wonder I wasn't getting any core files! I was inadvertantly setting the core file size to zero bytes!
Sigh.
Off to fix the code …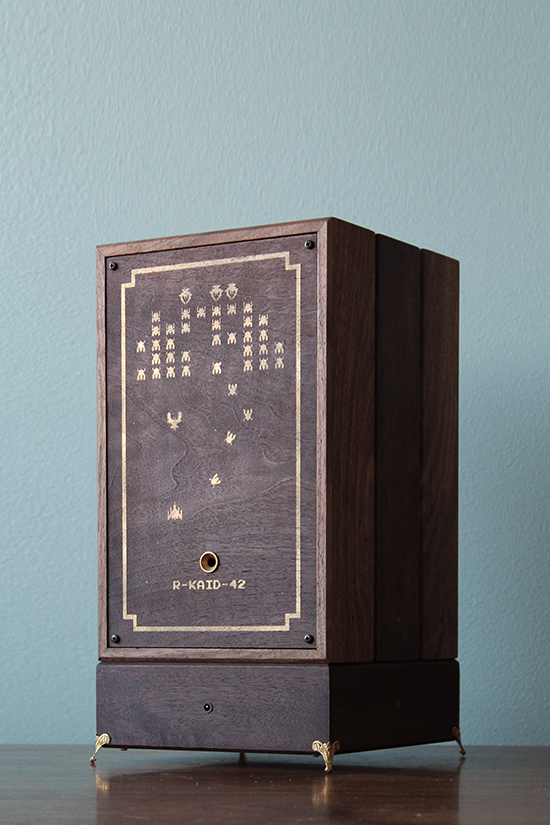 Love Hultèn (link via Flutterby) certainly does some beautiful computer cases (among other things) and it's a very nice change from the steampunk esthetic that's currently in vogue.
In Kentucky, students may be able to learn coding instead of a foreign language.

Legislation in the Kentucky Senate would let students use computer programming courses to satisfy foreign-language requirements.

The bill passed the Senate Education Committee on a 10-1 vote last week in a move forward.

Kentucky Coding: Foreign Language Requirement in Schools May be Satisfied with Computer Programming
This is not as crazy as it sounds. My friend Wlofie (who lives in Sweden) considered me multilingual even if I didn't think so, because I knew multiple computer languages (various assembly languages, C, Lua, some Pascal, Fortran, Perl, Lisp, Forth and Erlang, plus having written my own back in college) even if I only spoke one language (English). This, from a guy who spoke at least four languages fluently.
Sigh. Why not twenty-five years ago? I could have saved myself years of anguish attempting to learn German (really? six different forms of the article the?) had this been the case when I was in school.
Then again, I would have missed out on a teacher that sent students on daily donut runs …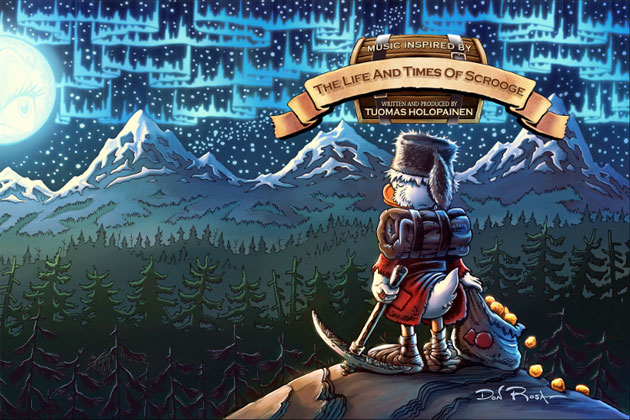 Well, it seems to day is comics day around here. First it was
Calvin &Hobbes
, and now it's
Uncle Scrooge
.
Don Rosa's The Life and Times of Scrooge McDuck is a comic book masterpiece. It's one of my all-time favorite stories, a tribute to one of the all-time greats, Carl Barks, by a guy who isn't too far shy of that title himself. Expertly researched and threaded through an existing continuity in a way that's still incredibly accessible to readers. And yet, every time I read it, I find myself thinking "wouldn't this be better if it was told through the timeless medium of Finnish prog rock?"

Via Jeff Cuscutis through MyGoogleFaceSpacePlusBook, Don Rosa Draws For a Finnish Rock Album About Scrooge McDuck
Um … I never asked myself that question either, but the video presented of one of the songs has me intrigued enough to maybe pick up the album when it comes out.
---
And apropos of some recent news, I know some of my friends will appreciate this: Calvin & Muad'Dib, a mash-up of Bill Watterson's artwork for Calvin and Hobbes, with Frank Herbert's writing from the Dune series.
And oddly enough, it works.
---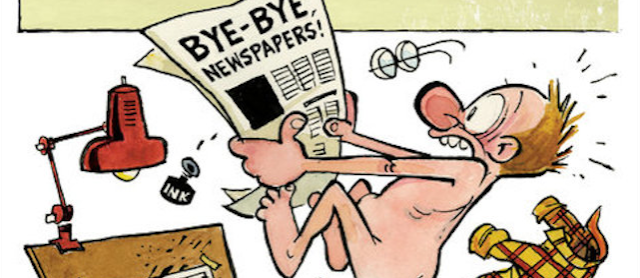 Well here's an unexpected surprise: Bill Watterson, long-retired creator of Calvin of Hobbes, was so impressed with Stripped—a new feature documentary that invites some of the biggest names in comics "to talk about the art form they love, and what happens to it as newspapers die"—that he agreed to provide the art for the film's poster.

Via MyGoogleFaceSpacePlusBook, Brand New Art from Calvin and Hobbes Creator Bill Watterson!
Squeeeeeeeeeeeeeeeeeeeeeeeeeeeeee!
The combo number two came with cheese, lettuce, tomato, onion … and ketchup.
Sigh.
---
"I'd like combo number two, with cheese, lettuce, tomato and onion, please."
"Do you want pickles on that?"
"No. Just cheese, lettuce, tomato and onion."
"Ketchup?"
"No. Just cheese, lettuce, tomato and onion."
"Mayo?"
"No. Just cheese, lettuce, tomato and onion."
"No mayo?"
"Right. No mayo. Just cheese, lettuce, tomato and onion.."
"Okay … "
[mumbles to self] "At least I didn't get the hamless ham and cheese without the cheese."
"How do you do that?"
"Do what?"
I receive email from time to time informing me of broken links on my blog. The good thing—they let me know of broken links. The indifferent thing—given enough time, most links break (despite Tim's advice) so that's expected. The bad thing—the people who send such email don't bother to actually read the page in question and are really here to leech from my Google Page Rank (for the record—3).
So it was very refreshing to see the following email:
From

"Amanda Tracy" <

XXXXXXXXXXXXXXXXXXXXXX

>

To

sean@conman.org

Subject

Broken Link on boston.conman.org/2002/06/02.1

Date

Wed, 19 Feb 2014 14:58:09 -0700

Good Afternoon Sean!

I wanted to let you know that I really love your post about helping your friend "F" move out of his parent's house and into a town home! My favorite part was when you mentioned what it was like when F's dad was trying to clean off the furniture. That was hilarious!

When reading, I noticed that one of the links is incorrect. The link labeled "U-Haul" is currently taking readers to "u-haul.com", but the correct domain is "uhaul.com". I was wondering if it isn't too much to ask, that we fix the link to "uhaul.com"?

Thank you for taking the time to read through this email, I look forward to reading more of your blog posts!

Amanda Tracy
U-Haul International | Online Marketing and Strategy
Web Analyst
XXXXXXXXXXXX X XXXXXX
XXXXXXXXXXXXXXXXXXXXXX
Not only was Amanda polite and to the point, she actually read the post in question!
Incredible!
With an email like that, of course it wasn't too much to ask to fix the link. And thank you, Amanda, for bringing the broken link to my attention.
I'm in the kitchen of The Ft. Lauderdale Office of The Corporation, preparing some boiling water for some tea. I was looking through the cabinet when I came across something that just stunned me.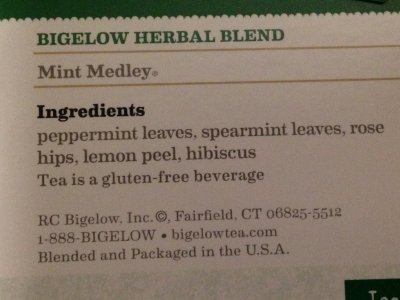 A package of tea (which really isn't even tea) that informs us, that, yes indeed, tea is gluten-free!
As if that wasn't readily apparent.
I mean, I could understand maybe mentioning that their tea bags are gluten-free, but tea itself?
…