We've arrived in Brevard!
The trip itself went smootthly. Well, except for one small disagreement about where the I-95N on-ramp was located when we were somewhere in Georgia getting gas. And the 18-wheelers hogging up the highway in South Carolina lowering our average speed for the trip. Oh, and there was the bumper-to-bumper traffic just south of Hendersonville on I-26W. Other than that, what have the Romans ever done for us? the trip was just smooth sailing.
When Bunny and I first started our yearly trips here, we stayed in the The Inn at Brevard, on the east end of town. A few years later we started staying at The Red House Inn, located on the west end of town. Unfortunately, the owners sold the place just after our visit last year, and now the Red House Inn is a private residence. The previous owners still have propery they were willing to rent out, but they're houses, and Bunny and I don't need an entire house for a vactation.
So we decided to try a new bed and breakfast, this time back on the east side of town, The Bromfield Inn, about a block away from The Inn at Brevard.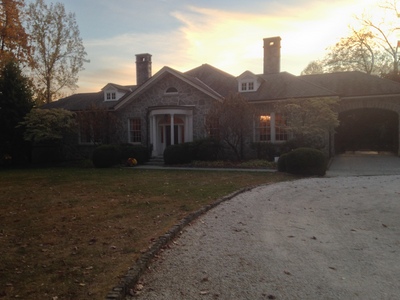 The suite we have feels like it's the size of Chez Boca.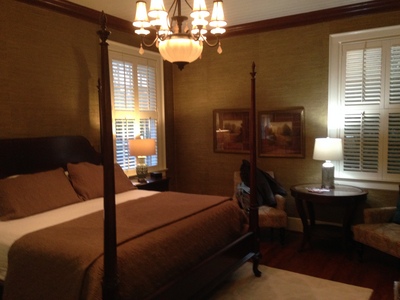 And it includes His and Hers changing areas: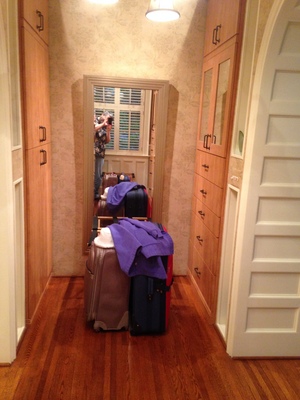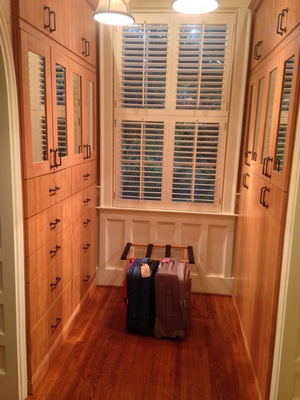 And the bathroom … well, the bathroom is getting a post of its own.
Update on Friday, November 4th, 2022