IT ARRIVED!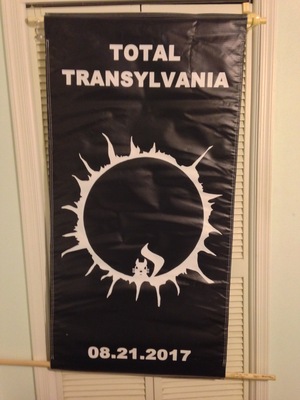 Two days after my quest, I received an email naming a price (which was pretty much what I thought it would be) and that they had set aside one of the banners. Unfortunately, I received the email too late to pick it up that day. I replied that I would pick it up on Friday as we were leaving town. Shortly thereafter, I received another reply that it would be waiting for me at the front desk.
Unfortunately, on Friday, with all the packing and loading of the car and it being o'god-it's-too-early-to-be-doing-this, we were a solid fifty miles out of town before I remembered I was supposed to pick up the banner.
Sigh.
I called to say I would call back on Monday to do the order and have it shipped.
On Monday, I called, only to find out the person responsible was out of the office and would call me back on Tuesday.
On Tuesday, I called just before they closed and again, the person responsible was out of the office.
On Wednesday, at o'god-who-is-this-calling-me-at-this-time-of-the-day, I finally received a call back. The sale was made, the shipping was paid, and then it was a waiting game.
I did not expect it to be delivered so quickly.