Yeast.
The preshow consists of sock puppets of belching yeast.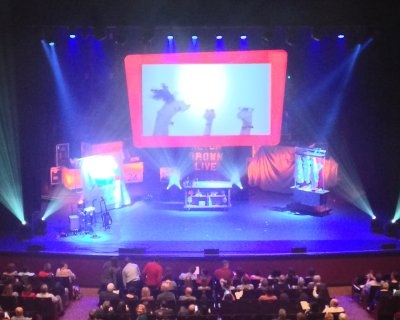 And farts. Sock puppets of belching and farting yeast.
In time to the Alfred Hitchcock Theme.
Of course it can only mean one thing—Bunny and I had tickets to the Alton Brown Edible Inevitable Tour!
Alton was nice enough to take our picture and post it to Twitter.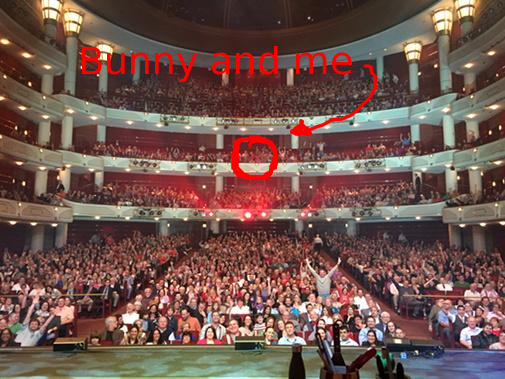 My god—what a show!
Alton Brown is extremely funny. After an attempt at rapping (he should not quit his day job, that's all I have to say about that), he went into "Things He Could Not Say On Televsion" which include rants against chicken fingers ("when I am depressed, or sad, or even bored, I just have to remember the sound of little girls screaming … ") to trout ice cream.
He makes a gallon of chocolate ice cream in 10 seconds (and it does not involve liquid nitrogen) and using the worlds largest Easy•Bake Oven (cranked to 11, it can be seen from outer space) he cooks pizza in four minutes.
And I best not forget his country song to Airline Lounge Shimp Cocktail. Rapping aside, he's not that bad of a singer and I've certainly heard worse.
All I can say is, if you are a fan of Good Eats or of Alton Brown in general, you should go. It's easily worth the ticket price.
And yes, he always carries nutmeg in his pocket.