The replacement replacement video card finally arrived! Woot!
The good: It's the right card!
The bad: It was not going into graphics mode when I run X.
The ugly: It took a few hours, but I finally got it working. It seems that when I tried the previous video card, the configuration was overwritten, and it took some gentle persuasion with a large hammer to straighten it out.
So now it's time to send back the wrong card, and relax now that this adventure is over.
---
What I thought was going to be a very simple operation of "take the old video card out, put the new video card in and we're good to go" wasn't. And as typical of when one problem leads to another problem which leads to yet another problem, I get very focused while at the same time I get extremely angry. As the issues pile up, as I'm reading scores of web pages with conflicting information (that is, when they have an answer out of the hundreds of pages checked) and I'm building up this huge fragile structure in my mind of everything I've tried, what I've yet to try, and futher questions to answer—
"What would you like for lunch?"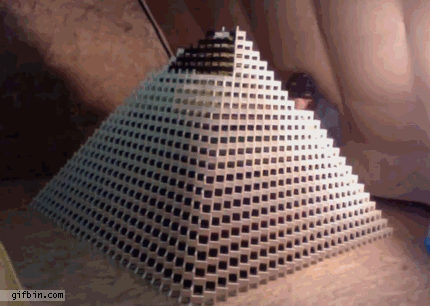 And it collapses like a house of cards, leaving me to start all over again.
I'll admit, it can be hard to distinguish between this and "very focused while working in a program" just prior to the house of cards collapse, but my response in the former is a primal scream while the my reponse to the later requires scraping me off the ceiling.
Bunny has learned to live with it.
---
Yeast.
The preshow consists of sock puppets of belching yeast.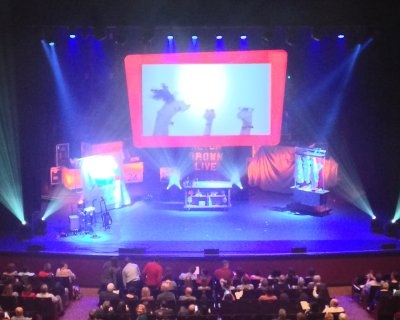 And farts. Sock puppets of belching and farting yeast.
In time to the Alfred Hitchcock Theme.
Of course it can only mean one thing—Bunny and I had tickets to the Alton Brown Edible Inevitable Tour!
Alton was nice enough to take our picture and post it to Twitter.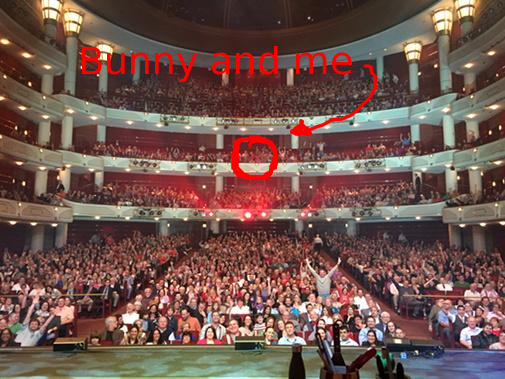 My god—what a show!
Alton Brown is extremely funny. After an attempt at rapping (he should not quit his day job, that's all I have to say about that), he went into "Things He Could Not Say On Televsion" which include rants against chicken fingers ("when I am depressed, or sad, or even bored, I just have to remember the sound of little girls screaming … ") to trout ice cream.
He makes a gallon of chocolate ice cream in 10 seconds (and it does not involve liquid nitrogen) and using the worlds largest Easy•Bake Oven (cranked to 11, it can be seen from outer space) he cooks pizza in four minutes.
And I best not forget his country song to Airline Lounge Shimp Cocktail. Rapping aside, he's not that bad of a singer and I've certainly heard worse.
All I can say is, if you are a fan of Good Eats or of Alton Brown in general, you should go. It's easily worth the ticket price.
And yes, he always carries nutmeg in his pocket.