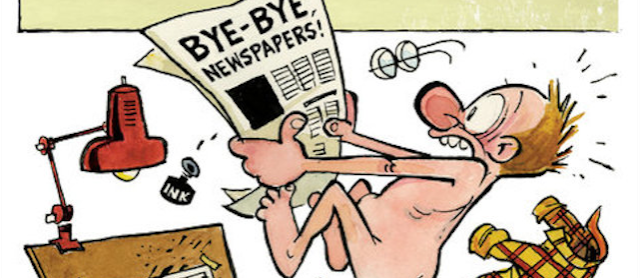 Well here's an unexpected surprise: Bill Watterson, long-retired creator of Calvin of Hobbes, was so impressed with Stripped—a new feature documentary that invites some of the biggest names in comics "to talk about the art form they love, and what happens to it as newspapers die"—that he agreed to provide the art for the film's poster.

Via MyGoogleFaceSpacePlusBook, Brand New Art from Calvin and Hobbes Creator Bill Watterson!
Squeeeeeeeeeeeeeeeeeeeeeeeeeeeeee!
---
And apropos of some recent news, I know some of my friends will appreciate this: Calvin & Muad'Dib, a mash-up of Bill Watterson's artwork for Calvin and Hobbes, with Frank Herbert's writing from the Dune series.
And oddly enough, it works.
---
Well, it seems to day is comics day around here. First it was
Calvin &Hobbes
, and now it's
Uncle Scrooge
.
Don Rosa's The Life and Times of Scrooge McDuck is a comic book masterpiece. It's one of my all-time favorite stories, a tribute to one of the all-time greats, Carl Barks, by a guy who isn't too far shy of that title himself. Expertly researched and threaded through an existing continuity in a way that's still incredibly accessible to readers. And yet, every time I read it, I find myself thinking "wouldn't this be better if it was told through the timeless medium of Finnish prog rock?"

Via Jeff Cuscutis through MyGoogleFaceSpacePlusBook, Don Rosa Draws For a Finnish Rock Album About Scrooge McDuck
Um … I never asked myself that question either, but the video presented of one of the songs has me intrigued enough to maybe pick up the album when it comes out.