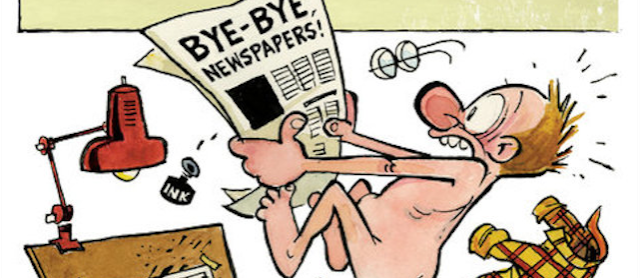 Well here's an unexpected surprise: Bill Watterson, long-retired creator of Calvin of Hobbes, was so impressed with Stripped—a new feature documentary that invites some of the biggest names in comics "to talk about the art form they love, and what happens to it as newspapers die"—that he agreed to provide the art for the film's poster.

Via MyGoogleFaceSpacePlusBook, Brand New Art from Calvin and Hobbes Creator Bill Watterson!
Squeeeeeeeeeeeeeeeeeeeeeeeeeeeeee!
---
And apropos of some recent news, I know some of my friends will appreciate this: Calvin & Muad'Dib, a mash-up of Bill Watterson's artwork for Calvin and Hobbes, with Frank Herbert's writing from the Dune series.
And oddly enough, it works.