I've heard of HyperCard, but having gotten into the Apple Mac scene just recently (like in the past two years) I've never seen it in action. I've heard great things about it and the types of stacks (which is what a HyperCard "program" is called) that have been created with it.
So I'm reading about why HyperCard had to die, which is more than just about HyperCard needing to die. It's also a tutorial about running HyperCard. I thought how hard could this be? So I start downloading …
Five hours later …
Oh. That hard.
I failed to get the Basilisk II binary for Mac OS X (as the site that hosts that appears to be down). Compiling it from source failed in the linking stage with an undefined reference to __gxx_personality_v0 and frankly, I'm just curious about HyperCard; I am not interested in debugging a build problem with a Macintosh emulator.
.
I then tried Executor, but given that I needed to run the GNU autotools prior to compiling and having that fail meant I discarded that solution; I am not interested in debugging an autotool problem with a Macintosh emulator.
It was at this time I found Mini vMac. There was an existing Mac OS-X executable (so nothing to build). Older Mac OS systems are freely available from Apple, leaving only the Macintosh ROMs to procure. I happen to have a Macintosh Classic, so I'll skip the details on extracting the ROM images from a machine I have no way of transferring any data from and that in no way involves using an Internet search engine to find a ROM image I could use. Nope. Did it the hard way. Tin cans. String. In the snow. Up hill. Both ways. That's my story, and I'm sticking to it.
So now I can start up the Mac emulator with the ROM image I totally copied from the Macintosh Classic I have (cough cough—sorry about that) and it's asking for a disk image to use.
Then came the issue of extracting the disk images from the Apple site. The modern Mac's default extracting program can't deal with the format. Existing free programs to do so under Linux don't work (I tried two different packages that are so old, they're shar files) and most Mac based programs want money. I did find one free program that can extract Mac-based archives and that worked beautifully.
It then took another hour or so to get System 7.0.1 installed (hint: you may find these blank disk images helpful to have someplace to install the software).
And finally, I can run HyperCard!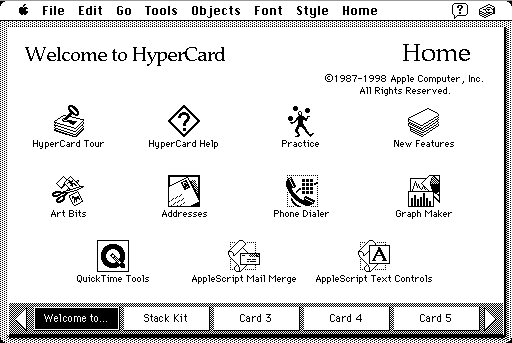 I then was able to finish the tutorial and ended up with a working calculator in less than five minutes time.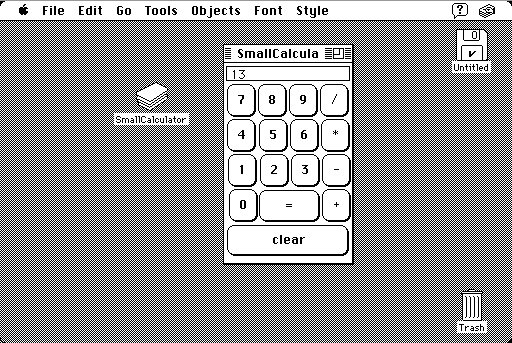 And just for comparison, here is a screen shot with the system calculator: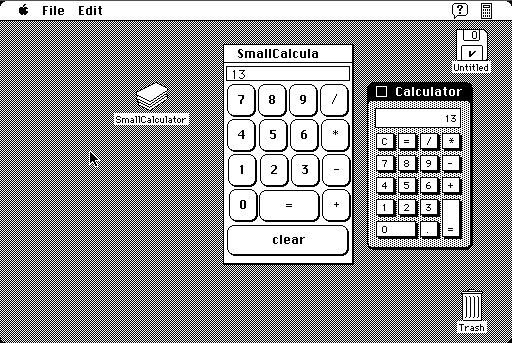 Now, HyperCard is more than just a precursor to Visual Basic, but at least now I can play around with it and see what all the hype was about.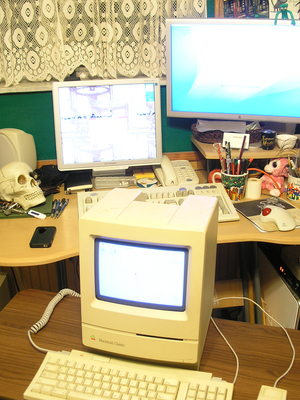 See! I told you I own a Macintosh Classic!
Oops. I let a bug slip through the latest release of the greylist daemon. It was a rather bad bug, one that was a show-stopper. My fault for not fully testing what I thought were last minute cosmetic changes to the code.
Ah well, what happened, happened, and I just released a new version.
From

"AGENT RONALD T. HOSKO."<

XXXXXXXXXXXXXXXXXX

>

To

undisclosed-recipients:;

Subject

FEDERAL BUREAU OF INVESTIGATION

Date

Sun, 4 Dec 2011 01:44:28 -0800

I HOPE YOU UNDERSTAND HOW MANY TIMES THIS MESSAGE HAS BEEN SENT TO YOU?. WE HAVE WARNED YOU SO MANY TIME AND YOU HAVE DECIDED TO IGNORE OUR E-MAILS OR BECAUSE YOU BELIEVE WE HAVE NOT BEEN INSTRUCTED TO GET YOU ARRESTED, KINDLY OPEN THE ATTACHED FILE BELOW FOR FULL DETAILS (DUE TO SECURITY REASON)

RESPECTIVELY
AGENT RONALD T. HOSKO.
FEDERAL BUREAU OF INVESTIGATION (FBI)

---

THIS IS THE (F.B.I)
FBI HEADQUARTERS IN WASHINGTON, D.C.
FEDERAL BUREAU OF INVESTIGATION
J. EDGAR HOOVER BUILDING
935 PENNSYLVANIA AVENUE,
NW WASHINGTON, D.C. 20535-0001
E=MAIL:(washingtonfbi@washington.usa.com)
FEDERAL BUREAU OF INVESTIGATION (FBI)

ATTENTION DEAR THIS IS THE FINAL WARNING YOU ARE GOING TO RECIEVE FROM ME DO YOU GET ME????

I HOPE YOU UNDERSTAND HOW MANY TIMES THIS MESSAGE HAS BEEN SENT TO YOU?.

WE HAVE WARNED YOU SO MANY TIME AND YOU HAVE DECIDED TO IGNORE OUR E-MAILS OR BECAUSE YOU BELIEVE WE HAVE NOT BEEN INSTRUCTED TO GET YOU ARRESTED, AND TODAY IF YOU FAIL TO RESPOND BACK TO US WITH THE PAYMENT THEN, WE WOULD FIRST SEND A LETTER TO THE MAYOR OF THE CITY WHERE YOU RESIDE AND DIRECT THEM TO CLOSE YOUR BANK ACCOUNT UNTIL YOU HAVE BEEN JAILED AND ALL YOUR PROPERTIES WILL BE CONFISCATED BY THE FBI.

WE WOULD ALSO SEND A LETTER TO THE COMPANY/AGENCY THAT YOU ARE WORKING FOR SO THAT THEY COULD GET YOU FIRED UNTIL WE ARE THROUGH WITH OUR INVESTIGATIONS BECAUSE A SUSPECT IS NOT SUPPOSE TO BE WORKING FOR THE GOVERNMENT OR ANY PRIVATE ORGANIZATION.

YOUR ID WHICH WE HAVE IN OUR DATABASE BEEN SENT TO ALL THE CRIMES AGENCIES IN AMERICA FOR THEM TO INSET YOU IN THEIR WEBSITE AS AN INTERNET FRAUDSTERS AND TO WARN PEOPLE FROM HAVING ANY DEALS WITH YOU. THIS WOULD HAVE BEEN SOLVED ALL THIS WHILE IF YOU HAD GOTTEN THE CERTIFICATE SIGNED, ENDORSED AND STAMPED AS YOU WHERE INSTRUCTED IN THE E-MAIL BELOW.THIS IS THE FEDERAL BUREAU OF INVESTIGATION (FBI) AM WRITING IN RESPONSE TO THE E-MAIL YOU SENT TO US AND AM USING THIS MEDIUM TO INFORM YOU THAT THERE IS NO MORE TIME LEFT TO WASTE BECAUSE YOU HAVE BEEN GIVEN FROM THE 3RD OF JANUARY.

AS STATED EARLIER TO HAVE THE DOCUMENT ENDORSED, SIGNED AND STAMPED WITHOUT FAILURE AND YOU MUST ADHERE TO THIS DIRECTIVES TO AVOID YOU BLAMING YOURSELF AT LAST WHEN WE MUST HAVE ARRESTED AND JAILED YOU FOR LIFE AND ALL YOUR PROPERTIES CONFISCATED.

YOU FAILED TO COMPLY WITH OUR DIRECTIVES AND THAT WAS THE REASON WHY WE DIDN'T HEAR FROM YOU ON THE 3RD AS OUR DIRECTOR HAS ALREADY BEEN NOTIFIED ABOUT YOU GET THE PROCESS COMPLETED YESTERDAY AND RIGHT NOW THE WARRANT OF ARREST HAS BEEN SIGNED AGAINST YOU AND IT WILL BE CARRIED OUT IN THE NEXT 48HOURS AS STRICTLY SIGNED BY THE FBI DIRECTOR.

WE HAVE INVESTIGATED AND FOUND OUT THAT YOU DIDN'T HAVE ANY IDEA WHEN THE FRAUDULENT DEAL WAS COMMITTED WITH YOUR INFORMATION'S/IDENTITY AND RIGHT NOW IF YOU ID IS PLACED ON OUR WEBSITE AS A WANTED PERSON, I BELIEVE YOU KNOW THAT IT WILL BE A SHAME TO YOU AND YOUR ENTIRE FAMILY BECAUSE AFTER THEN IT WILL BE ANNOUNCE IN ALL THE LOCAL CHANNELS THAT YOU ARE WANTED BY THE FBI.

AS A GOOD CHRISTIAN AND A HONEST MAN, I DECIDED TO SEE HOW I COULD BE OF HELP TO YOU BECAUSE I WOULD NOT BE HAPPY TO SEE YOU END UP IN JAIL AND ALL YOUR PROPERTIES CONFISCATED ALL BECAUSE YOUR INFORMATION'S WAS USED TO CARRY OUT A FRAUDULENT TRANSACTIONS, I CALLED THE EFCC AND THEY DIRECTED ME TO A PRIVATE ATTORNEY WHO COULD HELP YOU GET THE PROCESS DONE AND HE STATED THAT HE WILL ENDORSE, SIGN AND STAMP THE DOCUMENT AT THE SUM OF $499 USD ONLY AND I BELIEVE THIS PROCESS IS CHEAPER FOR YOU.

YOU NEED TO DO EVERYTHING POSSIBLE WITHIN TODAY AND TOMORROW TO GET THIS PROCESS DONE BECAUSE OUR DIRECTOR HAS CALLED TO INFORM ME THAT THE WARRANT OF ARREST HAS BEEN SIGNED AGAINST YOU AND ONCE IT HAS BEEN APPROVED, THEN THE ARREST WILL BE CARRIED OUT, AND FROM OUR INVESTIGATIONS WE LEARNT THAT YOU WERE THE PERSON THAT FORWARDED YOUR IDENTITY TO ONE IMPOSTOR/FRAUDSTERS IN NIGERIA LAST YEAR WHEN HE HAD A DEAL WITH YOU ABOUT THE TRANSFER OF SOME ILLEGAL FUNDS INTO YOUR BANK ACCOUNT WHICH IS VALUED AT THE SUM OF $10.500,000.00 USD.

I PLEADED ON YOUR BEHALF SO THAT THIS AGENCY COULD GIVE YOU THE 2011/12/02f SO THAT YOU COULD GET THIS PROCESS DONE BECAUSE I LEARNT THAT YOU WERE SENT SEVERAL E-MAIL WITHOUT GETTING A RESPONSE FROM YOU, PLEASE BEAR IT IN MIND THAT THIS IS THE ONLY WAY THAT I CAN BE ABLE TO HELP YOU AT THIS MOMENT OR YOU WOULD HAVE TO FACE THE LAW AND ITS CONSEQUENCES ONCE IT HAS BEFALL ON YOU.YOU WOULD MAKE THE PAYMENT THROUGH MONEY GRAM TRANSFER OR WESTERN UNION MONEY TRANSFER WITH THE BELOW DETAILS.

RECEIVER NAME ==== PAUL UBA
COUNTRY========== NIGERIA
CITY============== LAGOS
TEXT QUESTION==== WHEN
TEXT ANSWER===== TODAY TODAY
AMOUNT=====$499USD
SENDERS NAME======

SEND THE PAYMENT DETAILS TO ME WHICH ARE SENDERS NAME AND ADDRESS, MTCN NUMBER, TEXT QUESTION AND ANSWER USED AND THE AMOUNT SENT.

MAKE SURE THAT YOU DIDN'T HESITATE MAKING THE PAYMENT DOWN TO THE AGENCY BY TODAY SO THAT THEY COULD HAVE THE CERTIFICATE ENDORSED, SIGNED AND STAMPED IMMEDIATELY WITHOUT ANY FURTHER DELAY. AFTER ALL THIS PROCESS HAS BEEN CARRIED OUT, THEN WE WOULD HAVE TO PROCEED TO THE BANK FOR THE TRANSFER OF YOUR COMPENSATION FUNDS WHICH IS VALUED AT THE SUM OF $10,500,000.00 USD WHICH WAS SUPPOSE TO HAVE BEEN TRANSFERRED TO YOU ALL THIS WHILE.

NOTE/ ALL THE CRIMES AGENCIES HAS BEEN CONTACTED ON THIS REGARDS AND WE SHALL TRACE AND ARREST YOU IF YOU DISREGARD THIS INSTRUCTIONS.

YOU ARE GIVEN A GRACE TODAY TO MAKE THE PAYMENT FOR THE DOCUMENT AFTER WHICH YOUR FAILURE TO DO THAT WILL ATTRACT A MAXIMUM ARREST AND FINALLY YOU BE APPEARING IN COURT FOR ACT OF TERRORISM,MONEY LAUNDERING AND DRUG TRAFFICKING CHARGES, SO BE WARNED NOT TO TRY ANY FUNNY BECAUSE YOU ARE BEEN WATCHED.

THANKS AS I WAIT FOR YOUR RESPONSE

RESPECTIVELY
AGENT RONALD T. HOSKO.
FEDERAL BUREAU OF INVESTIGATION (FBI)
I constantly receive Nigerian 419 scams all the time and it takes a really great one to make it post worthy, and this one, despite being long AND IN ALL CAPS is well worth the time to read. This is the first time I've seen a Nigernian scammer blackmailing victims to respond. I'm sure Susan Whelchel has nothing better to do than to instruct the Boca Raton Police Department to come to Chez Boca and arrest me for terrorism, money laundering and drug trafficking, unless I pay $500 to help launder $10,500,00.00.
Nice deal, "pay $500 to 'obtain' $10,500,000 or we'll be forced to arrest you." I don't even think the Mafia ever had the gumption to try that approach.
It's also funny (as in "ha ha" funny, not "interesting" funny) that the FBI would have me send the money to Nigeria. It's also telling that the Nigerian scammers are at least doing some minimal research, as Ronald Hosko is a real FBI agent, although everything else (email addresses, websites, etc.) they got wrong.
But it's a start.
And if, on the off chance that this is true, then when I disappear, you'll know what happened to me.
---
Okay, that was amusing.
Normally, I post entries via email. I get to use an editor I'm used to using and I don't have to type in a small text field using whatever the web browser thinks is a capable editor (it never is).
But when I went to "post" my previous entry it never showed up. I could see my computer here delivering the email, but I never saw it show up on my server.
"But Sean," you say, "if you saw your computer deliver the email, but your server never got it … um … how does that work?"
"Glad you ask," I say, knowing full well that you didn't really ask at all. My ISP blocks all outbound email except through their servers. So I had to configure my local email server at Chez Boca to deliver my email through The Monopolistic Phone Company server, which usually then delivers the email to my server which ends up posting an entry to the blog.
So, my computer here delivered the post to The Monopolistic Phone Company, where it seems it was immedately swallowed up, no doubt marked as spam because it quoted extensively from a … um … well … "questionable" email. So I'm sure my email was automatically classified as spam and dumped directly into the bit bucket.
Now watch as in a few hours the two copies I sent show up posted here.
I decided to give Basilisk II another try, given the proper files for Mac System 8 were available. The problem I had last time appeared to be a simple compiler problem, and forcing the Makefile to use g++ got past that issue.
I then had to make a bazillion casts in one of the files, since g++ didn't like the code:

../uae_cpu/gencpu.c:2422: error: invalid conversion from `unsigned int' to `amodes'
../uae_cpu/gencpu.c:2422: error:   initializing argument 1 of `void genamode(amodes, char*, wordsizes, char*, int, int)'
../uae_cpu/gencpu.c:2422: error: invalid conversion from `unsigned int' to `wordsizes'
../uae_cpu/gencpu.c:2422: error:   initializing argument 3 of `void genamode(amodes, char*, wordsizes, char*, int, int)'

It seems one cannot cast an unsigned bitfield to an enum in g++ without a cast. There were only a bazillion locations to change in that one file, but once done, I had Basilisk II running on my Linux system.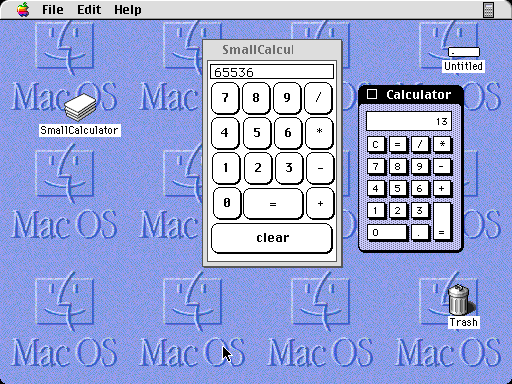 A nice feature of Basilisk II is that it can mount a Unix directory as a Mac "drive" so transferring files in and out of the virtual Macintosh is very easy and I no longer need to use hfsutils on disk images.
---
My job now was to smuggle these documents back into the company. I would be happy to just hand them over. But that doesn't make any sense to the company. The company officially has these documents (digitally managed!), and officially I don't. In reality, the situation is the reverse, but who wants to hear that? God knows what official process would let me fix that.

…

Oh, and as an external consultant, I'm not allowed to know some of the trade secrets in the documents. The internal side of the team needs to handle the sensitive process information, and be careful about how that information crosses boundaries when talking to the external consultants. Unfortunately, the internal team doesn't know what the secrets are, while I do. I even invented a few of them, and have my name on some related patents. Nonetheless, I need to smuggle these trade secrets back into the company, so that the internal side can handle them. They just have to make sure they don't accidentally repeat them back to me.
Via Flutterby, Institutional memory and reverse smuggling
This sounds like a cautionary tale of what happened to Stonehenge or the Pyramids of Giza—they were built, but now years later the project documentation got misfiled somewhere and we're stuck with trying to reconstruct how it happened.
Actually, now that I think about it, it also sounds like a lot of software projects.
Hmmm … oh my … no … just no …
---
… but on October 7th this year, Argentina announced that it wasn't going to use daylight saving time any more … 11 days before its next transition. The reason? Their dams are 90% full. I only heard about this due to one of my unit tests failing. For various complicated reasons, a unit test which expected to recognise the time zone for Godthab actually thought it was Buenos Aires. So due to rainfall thousands of miles away, my unit test had moved Greenland into Argentina. Fail.
Via Hacker News, OMG Ponies!!! (Aka Humanity: Epic Fail) - Jon Skeet: Coding Blog
I have no words for this, other than "be afraid. Be very afraid."
To help celebrate the Holiday Season™, The Corporation decided to cater our lunch today. The catering company selected saw that The Ft. Lauderdale Office (which has since moved to a new location), on the 8th floor, has a sizable patio and felt it would be nice to serve our lunch on the patio.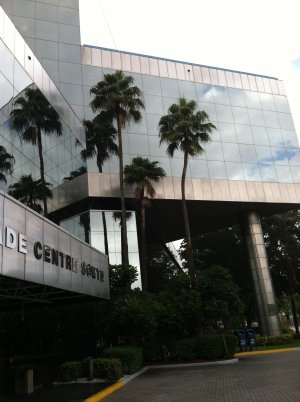 The picture is of our patio from the ground floor. At the top of the section of building on the right hand side is our patio. It's sizable. And did I mention it's on the 8th floor?
Because the weather today was a bit blustery. Blustery enough that at the 8th floor, setting up a tent was not a good idea.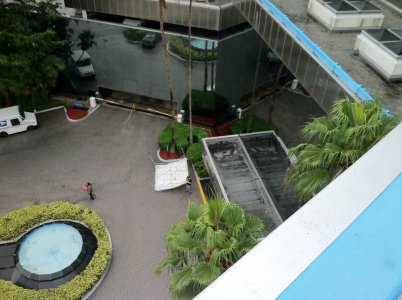 The wind picked it up and pitched it over the side like a piece of tissue. Fortunately, no one was hurt, and the only damage sustained was to the tent itself from its short flight.
We ate lunch inside The Ft. Lauderdale Office, and not on The Patio of the Ft. Lauderdale Office.
Okay, I'm totally biased, but what can I say? Sean Hoade is my best friend, and his new book of short stories, Inappropriate Behavior: Short Transgressions has just been released for the Kindle. You will buy this book! If not for you, then as a present.
(Oh, and if you don't like Amazon, Inappropriate Behavior: Short Transgressions is also available for the Nook, so there's no excuse---buy this book!)
Thanks to a random link to Cracked.com from my friend Hoade (damn him for sucking me into Cracked,com, but buy his book!) I spent the past several hours reading article upon article (like this hasn't happened before) when I came across this very interesting fact about Brevard, North Carolina.
I lived there for only five years, but I still have a soft spot for the place, even thirty years later. At the time, I thought it was very cool that the town was the county seat for Transylvania County (how cool is that?). Little did I realize that there was a secret NSA installation just outside of town.
And now, I just learned that there was a shooting war between North Carolina, South Carolina and Georgia over what later became Transylvania County, known as The Walton War. It started out as a place no one wanted but after some urban development and accurate surveying, everybody wanted it, and were willing to fight for it (even up till 1971!).
Why did I not learn this in school?
I mean, I can understand not learning about it in Florida schools, but I attended school in Brevard! This was local history! With shooting and stuff! And by local, I mean, passing a battle field on the way to my friend's house (and a mile from the school no less!).
What will I learn about Brevard next? Maybe mutant circus squirrels taking over the town? Hey … wait a second …