Our hotel is located just off US-192 in Kissimmee, Florida, and to get there, I decided, like on my last trip, to take the back roads to get to our final destination. The plan consisted of taking US-441 north to Kenansville (north of the more well known Yeehaw Junction) where we would then turn left onto Canoe Creek Road until it runs into US-192, whereby we then take another left until we arrive at the hotel.
Another aspect of this trip is that I wanted to avoid any and all chain restaurants and eat only in local establishments—my own private Feasting on Asphalt if you will. And our first stop was in Okeechobee at a place called the Brahma Bull. A rustic place, it was practically dead when we arrived mid Friday afternoon. I didn't think much of it at the time, but that could be a bad sign.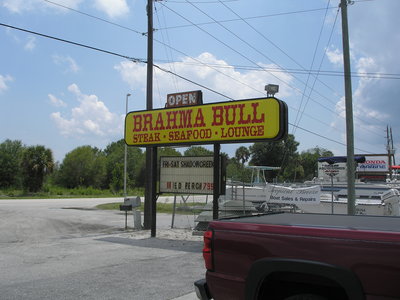 Fortunately, it wasn't. Bunny and I had the special, Fish-n-Chips (using perch instead of the traditional cod) and it was quite good. The coleslaw was particularly good; enough so that Bunny asked for the recipe.
I must note that the men's room theme was rather disturbing—a bull chute—I guess the clientele can get a bit rowdy there.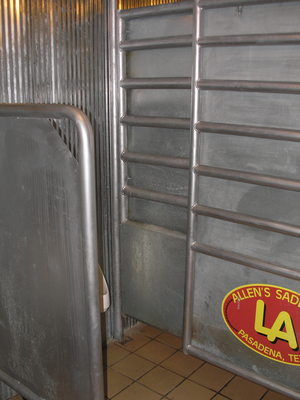 We then continued northward along US-441, through Yeehaw Junction til we hit the major Kenansville metro area, which consisted of a livestock feed store, a human feed store and what I could only assume was a bar. It was rather difficult to miss Canoe Creek Road, it being the major, and only interesection in Kenansville.
The ride up Canoe Creek Road was nice, although I was surprised at the high amount of traffic we encountered along the road—about one car every other mile or so. I had expected to be the only vehicle along this road.
And contrary to the title of this entry, Bunny and I encounted not one single banjo player, much less two dueling banjo players, much to our relief.
---
Bunny and I arrived at the hotel around 6:00 pm. I was planning on calling Bob, our D&D DM to see where he was, but while Bunny was checking us in, I followed the various signs for SleuthCon and found Bob already set up for our weekly D&D game in one of the conference rooms. He'd even gone so far as to set up a projection screen so that some of the early arrivals for SleuthCon could watch our D&D for the evening.
So I checked in with Bob, and Bunny checked in with the Front Desk. We then found our room, unloaded the car, and then headed back to the conference room to partake of some D&D action.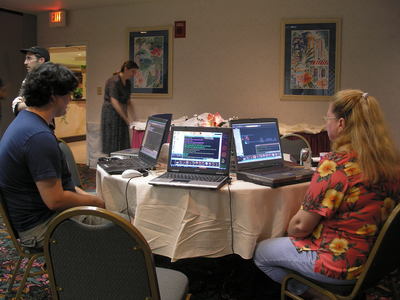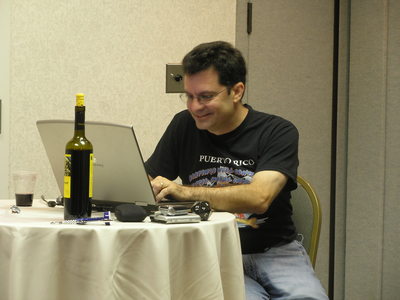 The only exception to my "non-chain restaurant" rule was tonight, as Bob ordered multiple pies from Pizza Hut. This was the only chain-restaurant food Bunny and I ate during the trip.