The department tweeted this week a map of where folks are said to have spotted lizard people in the past, out of concern that paranormal activity might be on the rise during the eclipse. "Regarding possible paranormal activity potentially occurring during the #SolarEclipse2017. As always, if you see something, say something," the department tweeted alongside the graphic, with tongue possibly in cheek (though who knows).

Via FaceGoogleLinkedMyPlusInSpaceBook, THE SOLAR ECLIPSE COULD BRING LIZARD PEOPLE, SOUTH CAROLINA EMERGENCY OFFICIALS WARN (REALLY)
Man, the crazy things people believe about this eclipse …
---
Bunny and I were in downtown Brevard on our way to eat at Rocky's Grill and Soda Shop when we came across a white squirrel: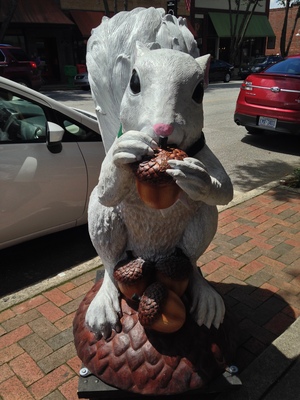 I'm beginning to sense a theme here …
---
After lunch, Bunny and I headed into the Penny Lane Exchange to pick up some new Hawaiian shirts. We entered, and the proprietor asked us if we were in town for the upcoming eclipse. We answered affirmatively, he then went on to ask if we recalled the Harmonic Convergence of 1987 and the emergence of a new paradigm of peace and harmony (no, really, it was a thing, thirty years ago today). Sadly, we had to inform him that no, we did not recall the Harmonic Convergence of 1987 but we really liked the shirts.
I have to remind myself that Brevard is in the shadow of Berkeley of the East.
---
Bunny and I stopped off at an antique store and there, I saw this really cool globe for sale: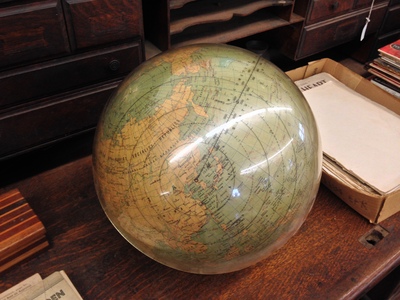 The ranged rings aren't printed on the globe—it's a clear plastic hemisphere that can be repositioned. And because I was curious, I placed the center point on Korea. Not North Korea mind you, Korea! The globe is so old that the Korean peninsula is Korea.
And that clear plastic hemisphere … I have never seen such a feature on a globe before. And it might have been quite progressive at the time, for it has both miles and kilometers marked off.
A very cool globe.