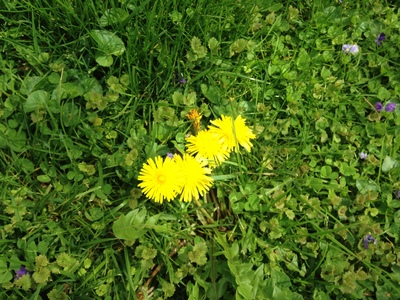 It's been years since I've last seen a dandelion, that little cheerful yellow flower that is apparently the bane of suburban lawn owners. And I have to wonder why?
What makes this flower such a bane? They come up, bloom, feed a bunch of bees, seed and then … go away? I don't know really. Growing up, my granddad would rip the suckers right out of the lawn and when that didn't work, pour gallons of caustic chemicals in the vain attempt to rid the lawn of the things even as the neighborhood kids would pluck the fuzzy cotton-headed dandelions and blow hard to send the seeds floating down the street.
I remember asking Bunny a few weeks ago what makes a weed a "weed," and she answered, "any unwanted plant." Okay, fair enough. But considering that the "weeds" we get in our yard have these needle-sharp burrs that are a literal pain to remove, I think I'd rather have dandelions in the lawn. At least they don't jam painfully into your fingers, drawing blood.