I was driving when we crossed over into Georgia, so I was not able to take a picture, but let me attempt to describe this surreal scene: picture in your mind a MINI Cooper as the flag car for an oversided vehicle. Now picture in your mind an oversized vehicle filling two lanes of the highway, carrying a swiming pool. Okay, the swimmming pool is empty, but it's still a swimming spool!
So, one of the smallest cars on the road escorting one of the largest oversized vehicles I've seen carrying the last thing I would have imagined being carried. Very odd. Keep up the good work, Georgia.
Other than that, the drive up to Brevard was uneventful. It did take us slightly longer than twelve hours to drive to Brevard this year, but only because of the bumper-to-bumper traffic we encountered just south of Hendersonville that slowed us up for about fifteen minutes.
We're again staying at the Red House Inn and this time, I was able to get our favorite room. And like in previous years, we dumped our bags and headed out for dinner.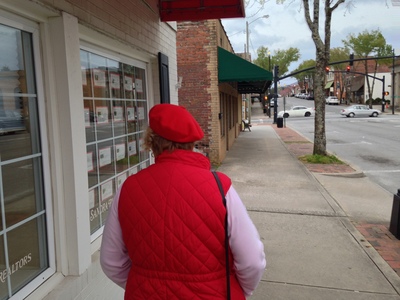 Our destination—The Square Root, a high end eating establishment tucked into an alleyway in downtown Brevard. It's one of our favorite places to eat. Well, truth be told, we have a lot of favorite places to eat in Brevard. But it's become somewhat of a tradition to eat our first meal at the Square Root.
After that, a walk back to the Red House Inn where we both collapsed into bed.