Ah, nothing like visiting Transylvania during Hallowe'en. Bat country. Gotta love it.
This is our third attempt at visiting Brevard, NC to see the autumn colors. Our first attempt was about two weeks early. The second attempt was about a week late. Hopefully, this time we've timed it right.
The problem with the autumn colors is that they are very dependent upon the weather leading up to Peak Leaf Season. It also depends on how north you are and how high up you are. But I picked this week, and hopefully, it'll be just right.
We left early this morning for the twelve hour drive to Brevard. The only downside to the entire trip was lunch at the Western Sizzler just outside Savannah, Georgia. I ordered a cheeseburger medium rare, not steak tartare au fromage on a bun. Bunny's food was seriously underseasoned. Even the salt was underseasoned. Not a pleasant experience.
We finally arrived at our destination, The Red House Inn. Previously, we've stayed at The Inn at Brevard (on the opposite side of town) but this time I felt it was time to shake things up and try a new place. The Inn At Brevard gives off a definite 1900 period vibe, which is not a bad thing, but The Red House Inn (built in 1851) is a bit more modern. The owners welcomed us and when we told them the reason for our visit, they did say they felt that Brevard was just breaking Peak Leaf Season. Perfect timing! Woot!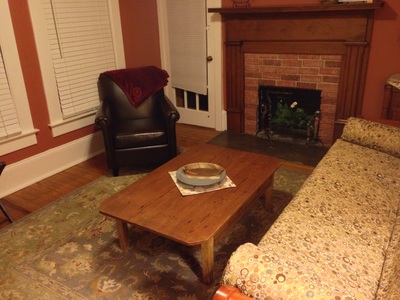 We were then shown to our suite I rented. It's about half the second floor, with its own hallway, bedroom, bathroom, living room and private porch. It is certainly worth its price. We dumped our bags, and headed out for dinner.