Bunny's brother is visiting this week from Seattle. He took one look at the broken computer desk shelf, measured the broken caster (it ripped out from the bottom of the shelf) and the length of the shelf. He then went to the garage, where Bunny has all the wood working equipment. He selected a scrap piece of wood, ripped it to 2½″, then cut it to length (it helps to have a table saw for this). He then scribed a curve on each end and with the bandsaw, cut the corners off. A quick pass with the belt sander to round off the edges of the board. A bit of wood glue, some clamps, scraping off the the excess glue with a paint scraper and all that was left was to wait for the glue to dry.
And yes, it happened pretty much that fast. Well, except for the waiting for the glue to dry.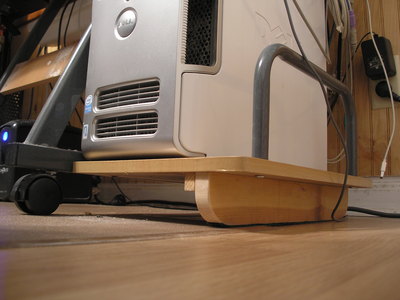 Oh, I almost forgot to mention the strip of felt along the bottom. The shelf now has better support and it can still slide out of the way in case I need access to the cables.
Now I'm just waiting for the new video card to arrive.