I need to talk about the huge bathroom in the Blue Moon Room.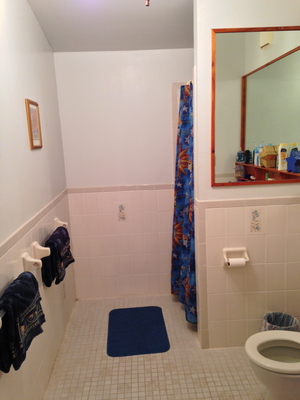 Huge. Easily twice the size of ours at Chez Boca. But the sink (not shown in the picture)? Tiny. That toilet? A midget would find it nice. That shower stall?
Nothing at all like the one at the Red House Inn in Brevard, which could easily fit two or more people. Nope. This one barely fit one and even then, it took careful manoeuvering to turn around.
Yeah, for the size of the actual room, you think they could have used slightly larger fixtures. Heck, moving the wall closer to the toilet by six inches, and putting the shower curtain across the room (across the rug that's there now) and making that entire portion of the bathroom the shower would have done wonders.
But no.
We get a bathroom fit for the extras from "The Wizard of Oz."