The Red House Inn is just a few blocks from downtown Brevard, so Bunny and I decided to walk to dinnner. Our first choice of venue was The Square Root, as it has become a tradition to eat there for our first dinner. Unfortunately, they now close on Tuesdays. The owners of the Red House Inn then recommended Jamie's, a new Creole restaurant that opened a little over a week ago in downtown Brevard.
So Bunny and I walk. Along the way we pass Celestrial Mountain Music, a music and musical instrument store where there were a dozen musicians sitting in a circle playing bluegrass music.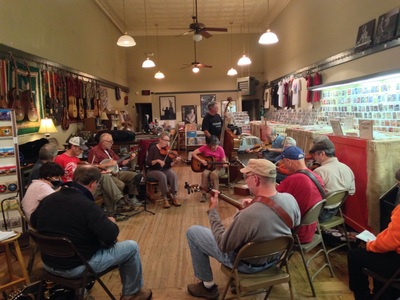 They saw us peering in the window; the bass player leapt across the store and into the street, welcoming us to just listen in as they played. Despite wanting to get to dinner before the sidewalks were rolled up at 9:00 PM we did stay for one musical number before bidding adéu to continue our journey to Jamie's.
It's a popular restaurant and we had to wait a few minutes for a table to open up.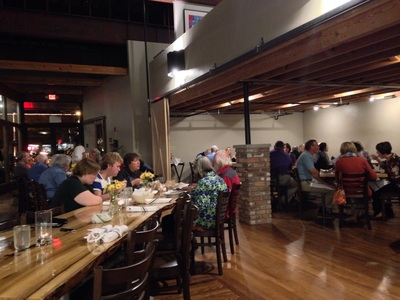 Bunny ordered a shrimp and corn chowder that was quite good. The lump crab salad appetizer was okay (but then again, it's hard to match the crab from Capp's Place). I had the rib-eye steak (an overly generous portion) with mushrooms and grilled corn, which was one of the better rib-eyes I've had. Bunny ordered the French cut chicken with tabouleh and winter vegetables. While her chicken was one of the moistest pieces of white meat (it was expertly cooked) the taste was … there. It wasn't much to write home about. The winter vegetables were a bit underdone but the tabouleh was delicious.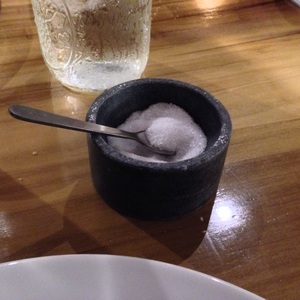 For desert, we ordered the beignnets. While I found them quite good (very light, not overly sweet) Bunny found they didn't quite quench her desire for fried dough.
Over all, we were glad to try the restaurant, but I don't think we'll be making it a regular destination.