The Quality Inn room is very nice, but there were several men in a very heated discussion, outside as we were trying to sleep. Bunny called the front desk to complain, and was informed by the sole employee onsite at the time that the police were being called in to mediate the heated discussion.
Sigh.
An hour later, the very heated discussion was resolved, but that still left a bunch of people entering and leaving various rooms and making sure that their doors were closed shut.
I think things quieted down by 3:00 am, giving me a full three hours before the wakeup call.
Le sigh.
---
Of course I'm blogging from the conference. Why do you ask?
---
I managed to get through my presentation about "Project: DoogieHowser" although my presentation was a bit shorter than I expected it to be. But it appeared to go well with the audience.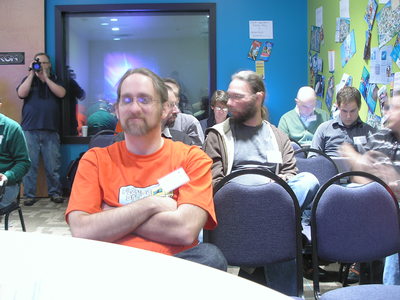 Smirk has been recording all the sessions with the goal of putting up the videos at Drupal Maestro (where you'll be able to see my presentation, but not from my perspective).
And if that wasn't bad enough, I volunteered to do yet another presentation, this time about Git, since there was an open session and one of the suggestions for a topic was git. Since I use git, I figured I could do a quick rundown on how to use it.
---
While I was underwhelmed by the Drupal users group, I am not underwhelmed here at the 2010 Florida Drupal Camp.
But then again, I'm sitting through the Special Topics track, which have the more technical talks at the conference. Everybody has been very nice (obviously, they haven't read that post) and the catered lunch was quite good. I'm actually glad I came to this thing.
Now, to prepare for my git presentation …
---
The git presentation was well received, as I briefly covered some basic git commands like git init, git add filenames… and git commit, along with a few different workflows one can do with git.
After that, a two-plus hour dinner at Macaroni Grill, dinner for 60.
Now, I crash.