Continuing the theme of My Own Private Feasting On Asphalt (that is, eating at local restaurants), after a day at the Space Center, Bunny decided that we would eat at the first seafood restaurant we came across. We had seen several such local establishments yesterday and earlier today so we knew it would be easy to find such a place.
The first one we tried, the Crab House (or was it the Crab Shack? I don't recall now), looked closed.
We almost missed the second place—Mo's Crab Heaven.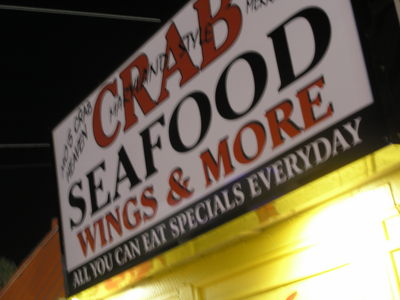 Set back from the road in an ugly yellow building with a few cars strewn about in the parking lot, it really didn't look that inviting. But we were hungry. This was local. And we were here.
Inside, the place was brightly lit. The tables were covered with butcher paper, and surrounded with fold-up chairs. There were a few people inside smashing their way through crabs. We were lead to a table (where I got to watch Formula-1 racing on the TV nearby) and both ordered the crab cakes.
The food was excellent.
During our meal, one of the cooks came out to talk to the patrons at the table behind us. In his hand was a live blue crab, which had been caught not ten minutes earlier in the Banana River out back. Talk about your fresh sea food.
Mo's Crab Heaven also gave out free Tootsie Rolls to all patrons. Free Tootsie Rolls!