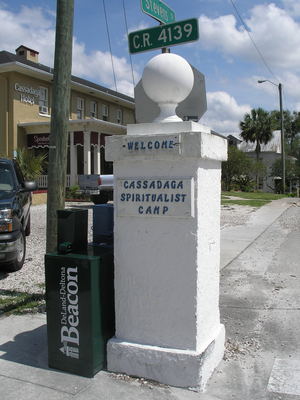 We made it to Cassadaga, although we didn't travel the backroads but instead took I-4 East.
I had planned on arriving before 3:00 pm so we could take a historic tour of Cassadaga, but by the time we got going, it was a bit after 2:00 pm, so speed considerations took over asthetic considerations and thus, the trip up I-4. Cassadaga proved to be a bit futher than I expected, about 60 miles away.
We didn't arrive in time for the 3:00 pm historic tour (but more on that in a bit).
But we were in Cassadaga, a place so thick with mediums you can't wave a crystal without hitting one (as I joked to Bunny).
When we enquired about the tour we just missed, we were informed that the Nighttime Orb Photography Tour (which we planned on taking) included the historic tour normally given at 1:00 and 3:00 pm, only at night, and with the opporunity to take pictures of ectoplasmic orbs (or, whatever they are, and I'll be getting to those in a bit). Fortunately, we didn't really miss anything.