For the trip back home, I decided we'd take State-60 east (even though the scariest drive of my life had been along State-60, but that was at 1:00 am with 50′ visibility and a semitruck doing 100mph right behind me—that was then, this is now, in the middle of a sunny day) and at Yeehaw Junction take US-441 south all the way back home.
For such a small one building town it sure was noisy with all the truck traffic passing through.
Now, before the trip, I was told that US-27 was a very dangerous route to take, but I found State-60 and US-441 to be way more frightening than US-27 ever was on this trip (maybe because US-27 was two lanes each way the entire trip, whereas State-60/US-441 were two lanes total through this part of the state).
As we were driving home, the weather off towards the south east looked rather ominous, although the threatening rain never did materialize.
Now, for this trip, I borrowed Smirk's digital video camera and took about an hours worth of footage over the past two days.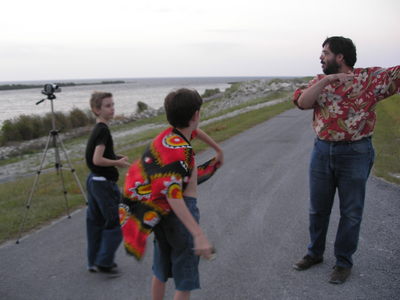 The intent is to edit the raw footage into a video blog entry that (hopefully) will be coherent and amusing. We shall see.