Something I've been meaning to blog about since September 12th (I think—it may have been since September 5th). Mondays I do the weekly grocery shopping and while at Costco saw the (sadly) obligatory Christmas decorations on sale.
Sigh.
(meanwhile, I couldn't find any Christmas decorations to link to at the online Costco store, I did however, come across some I wouldn't expect from a warehouse grocery store but then again, Costco doesn't really limit themselves to just groceries)
Woot! Spring has returned! She's back from her weeklong vacation doing nothing (and it was all it was cracked up to be) and with her was The Younger, done visiting his Dad for three weeks or so.
It's certainly gotten less quiet all of a sudden.
For Spring, because I know she'll like it (via Flutterby).
---
"I've got some bad news," I said to Smirk.
"You know the rules," he said. "You have to make it sound like good news."
I thought for a few moments. "We can save electricity by turning off this server," I said, pointing to one of the boxes in the office.
"It doesn't work?"
"No," I said.
"It was hacked?" asked Smirk.
"'Fraid so," I said.
---
I only noticed because the network to the office went down. I could ping other boxes in the office, but couldn't get past the firewall. I then went into the data center, logged onto one of the servers and yes, I could still get out to the Internet (relief there). But I couldn't ping the firewall from outside.
I then checked the firewall, and it was still up and running. If I unplug the office network, I could ping the firewall from the outside. Plug the office network in, and it gets swamped.
So something on our network was spamming the network.
Spent the next few minutes plugging and unplugging various bits of the office network until I isolated the culprit—the system that monitors the servers and network.
Of course!
It was at that point that I broke the news to Smirk.
---
Once it was unplugged, I start poking the machine and yup, there was this odd process: "./s 202.XXX.XXX.XXX". It was pretty easy to locate the actual executable under /dev/shm/http/, which is normally not a place for executables. The process was running as the apache user, and the files under /dev/shm/http were owned by apache, which to me, is a rather obvious clue that it was Apache was the vector of the exploit.
Among the files in /dev/shm/http/ were configuration files to a hacked IRC bot (which was named s) and some other program (named httpd—not sure what that was) and a few scripts to start things up and to clean the log files (which the cracker had not bothered to run). The hacked up IRC bot would just sit there until commanded to participate in a DDoS attack, which obviously was the cause of the sudden network activity, aimed at a site in Japan.
But how? How did this person get in?
More poking around the system lead to a rather curious request just a few minutes before I lost network connectivity (due to the firewall being swamped)—it was a request to Cacti, a data storage and graphic package with a web based interface written in PHP (why does that not surprise me?). It seems we had fallen prey to a Raxnet Cacti graph_image.php Remote Command Execution Exploit, which basically means the cracker was able to send a command to the server, in this case, a command that would download a perl script and execute it, opening up a shell to a remote connection. It was through this that the hacked programs were uploaded and started.
Fortunately, this is the only system running Cacti, and second, there was no trust mechanism to any other machine on the network from this machine. And third, this is a machine that we only log in to, never log in from, so any damage was limited to just this machine.
On the bright side, it could have been worse.
---
On May 5th, 2005 (05/05/05 spooky!) I set out to determine just how much money I could lose by trusting SPAM.

What if I purchased 1000 shares of stock from EVERY stock tip mentioned in a SPAM email? Could we all really be missing out on a great opportunity?

Of course, I don't have the money to actually waste on an experiment like this. I made this little web site to keep track of the value of those stocks … without my actually purchasing anything.
I did a bit of stock trading back during the Internet Boom (and made enough to get a car and take it easy for a while, more due to timing than skill) so it's pretty easy to see the scam here (and yes, I get these stock spams too). A scammer buys a penny stock (a large volume of penny stock), hawks it like there's no tomorrow (because, really, there isn't) and sells it as soon as it upticks a few cents.
One thing to note: I thought that I would realize temporary windfalls on all penny stocks, but then see big losses. Instead almost ALL of those stocks I added went up a few cents max, then dropped like flies the next day. So much for short term gains.
One thing to consider—these are cheap! Picking one from his list, HTSC.PK. Purchase price was 19¢ per share. Even if it goes up 3¢, for 20,000 shares ($3,800) that's still $600 profit, and two such trades per week isn't that bad a take (and the Spam Stock Tracker "bought" it at 19¢—the spammer probably got it for a cent or two less).
An interesting strategy might be to "buy" the stock early in the morning, then "sell" just before the markets close the same day, and see how well one does.
When I wrote about the stock spams last night, I had absolutely no examples to give. But lo', I didn't have to wait long—over night I received sixteen examples, most of them reading like:
From: cristi Astley <hroxy@abrobrinha.com>
To: (one of my domain contact email addresses)
Subject: H0t Pick Witth Results!_unsprayed
Date: Thu, 06 Oct 2005 01:41:50 -0600

cristi_dryad

WallStreet Profit Picks IGTS . PK
For This Weeks Mover!

First we would like to say Thank You to all of our avid readers! We have had great success over the last few months and have become one of the most wide|y read investment newsletters in the wor|d. We have accomplished this by providing timely, accurate financial information with proven results and great returns 250 to 600 percent on every pick!

Ticker:_IGTS. Pk
Last_Trade:_. O1
Projected_Price:_. 20
Return_Level:_Very_High

Intelligent Sports taps into national franchise company, LMM Group, Inc., to set the framework for expanding nationally …

Watch IGTS . PK trade All Week Long Starting today, Be sure to get in on it and have a great payday with our other members, before the company launches a huge promotion at the end of the week! This Friday coming up the company will be launchig a massive marketing campaign with more great news to be released and next week should be over 15 to 25 cents so get in now at one cent and have a great return!

xeroxed worthier starving free
painless,

pierce undoubted thinnish nonzero
peruvian.
Lots of hype. Lots of spammy influences too.
So, out of these sixteen spams I got today, only four different stocks were being hawked. I checked them out and made a few guesses as to when the spammers may have bought the stock (I assumed the lowest price during the past five days).
Spam Stocks being hawked this week
Symbol
# spams received
Price quoted in spam
Closing price today
Possible Spammer price
High over past five days
CWTD.OB
7
2.03
2.10
1.95
2.15
ASCE.PK
2
0.80–0.90
0.85
0.75
0.90
CEOA.PK
6
3.00
3.05
2.75
4.10
IGTS.PK
1
0.010
0.021
0.006
0.024
0.016
0.021
That last stock, IGTS.PK, had two spikes in the past five days, so for that one, I'm including both spikes. Also, it's that last one that offers the most profit of all the stocks, simply because of the sheer volume of stock one can get cheaply.
Hypothetical profits from each stock, buying at most $1,000.00 worth of each
Symbol
# Shares
Buy cost
Sell amount
Profit
CWTD.OB
512
998.40
1,100.80
102.40
ASCE.PK
1,333
999.75
1,199.70
199.95
CEOA.PK
363
998.25
1,488.30
490.05
IGTS.PK
166,666
1,000.00
3,999.98
2,999.98
62,500
1,000.00
1,312.50
312.50
So, buy some cheap penny stocks, send out a few million spams and wait a day or so for the price to rise, then sell. Two or three trades a week and you can make a decent living it looks like.
Until that is, the SEC comes knocking. Or the IRS. Or the net.cops.
I'll be interesting to watch these stocks over the next few days to see what happens.
Since yesterday, I've recieved yet another 9 stock spams, three for GBIC.PK, three for AXCP.PK, two for TOTG.OB and one still hawking for CEOA.PK. The ones I started tracking yesterday have pretty much flatlined, while the new ones today appear to have picked up a bit, but I expect them too, to level off.
Looking at the graphs over the past five days, you can almost get a feel for when the spammer may have bought the stock (usually a large volume with a good price inrease) but what's not so easy to pick out is when the spammer sold the stock (and for the case of CEOA.PK, I suspect the spammer is still trying to get movement on that, or this spamming engine is way behind).
I'm guessing that even if one where to try to outguess the stock spammers at their own game, it won't be easy. Another thought I had, in relation to the obscenely cheap penny stocks—wouldn't the very act of buying, say, 200,000 shares cause the price to raise? At which point, sell. Even if the act may only rise the price ½¢ it's still a $1,000 profit. But, in thinking more about this, if that were true, wouldn't more people engage in that? Or am I discounting the amount of greed in stock traders?
The Good Thing™ about the Internet: there are no editors to get in the way.
The Bad Thing™ about the Internet: there are no editors to get in the way (via Eric Burns, so blame him).
Gah.
At least today is turning out to be a much better day than yesterday.
Yesterday, I had the distinct pleasure of learning just how braindead a Riverstone Networks RS 3000 switch/router can be (and that is a post unto itself).
I also had the distinct pleasure of renumbering (assigning new IP addresses) a thousand sites (literally—I ended up renumbering 1,200 websites), a process that didn't go quite as smoothly as I had wished. This mess started about two weeks ago when R (I manage a few servers for him) informed me that his largest customer (who has the aformentioned 1,200 websites) wanted distinct IP addresses for each one. That meant I first had to secure enough IP addresses and get them routed to the server, which took most of the time.
Meanwhile, I was sent a list of sites from the customer, which was smaller (by about oh … 300 or so) than the actual list of sites on the webserver. So now I had to reconsile both my list and the customer list. I ended up with five lists:
sites that were in both lists
sites that I need to add
sites that I had, but the customer didn't list
sites that had expired (domain registration expired)
sites that were no longer hosted with us (found via DNS queries)
Then there was the back-and-forth exchange with the customer that boiled down to: keep all sites (even expired and those that no longer point to the server) and give as many sites their own IP address as possible (I ended up giving the first two lists their own IP, with the last three lists sharing a few addresses).
Then last night was the Great Renumbering.
One thousand (plus) sites. Five lists. Making sure I keep a record of which site gets which address. And yes, it was rough. I started at 2:00 am (technically very early this morning) and ended at around 3:30 am, spending the hour and a half running custom Perl scripts, generating DNS zone files and an Apache configuration file. Messed up a few times—mixing up two lists, forgetting to update the serial number in a zone file, simple mistakes like that.
Then at 7:30 am I get a call from the customer. A couple of domains seem to be down. Stumble over to the computer, log into the server, and find out that I forgot to run one of the lists (no wonder the new configuration file seemed a bit small). Oh, and DNS for a few domains was borked (about six zones out of 1,200 had some custom records). I was surprised at how few sites got broken during the process (and given that the customer was confused about what sites where active, it's even more amazing).
But man, am I tirezzzzzzzzzzzzzzzzzzzzzzzzzzzzzzzzz
---
See, yesterday, all I wanted to do was assign an unused port on the Riverstone Networks RS 3000 from one VLAN to another. Actually, two unused ports, but it's something that, for a switch, should be rather uncomplicated.
Now, the Riverstone Networks RS 3000 works much like a Cisco router—you log in and can type commands at the command line prompt, and even change the configuration through the command line. It will even walk you through the command lines, showing you which options are valid at any point in the command line.
It will even allow you to group ports together into a command. For instance, on our Riverstone Networks RS 3000, a default setting for all the ports are set with one command:

port set et.(1-2).(1-16) speed 100mbps duplex full auto-negotiation off

This sets all 16 ports on the two Ethernet modules to a known setting. And if you need to set a port differently, well …

port set et.(1-2).(1-16) speed 100mbps duplex full auto-negotiation off
port set et.2.8 speed 10mbps duplex half auto-negotiation off
port set et.1.3 auto-negotiation on

So you can set a default, then override later on in the configuration.
The same is true for the port descriptions:

port description et.(1-2).(1-16) "UNUSED"
port description et.1.1 "ns1.example.net"
port description et.1.2 "LINK to switch FOO"
port description et.1.3 "ns2.example.net"

Pretty simple so far (but our hero is walking through an empty house, and finds the stairs to the basement—the audience is shouting at the hero not to go down the stairs. Of course he does).
And the creation of a VLAN is also straight forward:

vlan create TheCompanyVLAN1 port-based id 500
vlan create TheCompanyVLAN2 port-based id 501

This associates a human readable name to a numeric ID that VLANs use. Again, straightforward. You can even assign a block of IP addresses to a VLAN quite simply:

interface create ip TheCompanyVLAN1 address-netmask 10.10.10.1/24 vlan TheCompanyVLAN1
interface create ip TheCompanyVLAN2 address-netmask 10.10.20.1/24 vlan TheCompanyVLAN2

This will automagically set up routing between the two VLANs so far thus defined.
Now, here's where things get interesting. You can assign ports to a VLAN simply enough:

vlan add ports et.(1-2).(1-16) to TheCompanyVLAN1

This assigns all the ports on the Riverstone Networks RS 3000 to VLAN TheCompanyVLAN1. So just like the port speeds and descriptions, it so far looks like you can assign a default VLAN to each port, and then override it futher down in the configuation:

vlan add ports et.(1-2).(1-16) to TheCompanyVLAN1
vlan add ports et.1.4 to TheCompanyVLAN2
vlan add ports et.2.4 to TheCompanyVLAN2

One would think that, but one would be horribly wrong! Muahahahahahahahahahahahahahahaha! YOU CAN'T DO THAT! Muahahahahahahahahahaha! (and here the hero has his face eaten off by a zombie—the audience is going "told you so! Told you not to go into that basement!")
Try to do that, and the Riverstone Networks RS 3000 will complain bitterly about ports et.1.4 and et.2.4 belonging to VLAN TheCompanyVLAN1. You just can't assigned a default VLAN, then reassign it later (unless it's a trunk port, but then a a trunked port can be assigned to multiple VLANs, and I didn't want that). No, you have to assign each port once to a VLAN.
So, one may then attempt:

comment out vlan add ports et.(1-2).(1-16) to TheCompanyVLAN1
vlan add ports et.(1-2).(1-3) to TheCompanyVLAN1
vlan add ports et.(1-2).(5-16) to The CompanyVLAN1
vlan add ports et.1.4 to TheCompanyVLAN2
vlan add ports et.2.4 to TheCompanyVLAN2

BUT YOU'RE SCREWED! The Riverstone Networks RS 3000 will complain about the ports already being part of TheCompanyVLAN1 so it'll ignore the reassignments of the ports to the same VLAN, it'll bitch about ports et.1.4 and et.2.4 being reassigned, but since you commented out the line that assigns all the ports to TheCompanyVLAN1, it'll then nock the ports out of that VLAN (and here, the hero is now a shambling zombie, stalking his girlfriend to eat her face off).
And if you're unlucky, you'll do this on a live network.
And then all the phones on your desk will start ringing off the hook.
And your cell phone will start ringing.
And you're running around, trying to figure out why the network suddenly took a dump when all you're doing to trying to reconfigure two unused ports to a new VLAN.
Did I mention the part about being screwed?
No, apparently, what you have to do is

comment out vlan add ports et.(1-2).(1-16) to TheCompanyVLAN1
vlan add ports et.(1-2).(1-3) to TheCompanyVLAN1
vlan add ports et.(1-2).(5-16) to The CompanyVLAN1
vlan add ports et.1.4 to TheCompanyVLAN1
vlan add ports et.2.4 to TheCompanyVLAN1

And ignore any warnings that the Riverstone Networks RS 3000 may throw at you, and then check to see if all the ports are set correctly:

RS3000BrainDeathRouter# vlan show
VID VLAN Name       Used For                     Ports
--- --------------- ---------------------------- -----------------------
1   DEFAULT         IP,IPX,ATALK,DEC,SNA,IPv6,L2
500 TheCompanyVLAN1 IP,IPX,ATALK,DEC,SNA,IPv6,L2 et.1.(1-16),et.2.(1-16)

Then go back into the configuration and comment out the two ports:

comment out vlan add ports et.1.4 to TheCompanyVLAN1
comment out vlan add ports et.2.4 to TheCompanyVLAN1

And check to see if that took:

RS3000BrainDeathRouter# vlan show
VID VLAN Name       Used For                     Ports
--- --------------- ---------------------------- -----------------------
1   DEFAULT         IP,IPX,ATALK,DEC,SNA,IPv6,L2 et.1.4,et.2.4
500 TheCompanyVLAN1 IP,IPX,ATALK,DEC,SNA,IPv6,L2 et.1.(1-3,5-16),et.2.(1-3,5-16)

Then bounce back into the configuation, and add the two ports to the other VLAN:

vlan add ports et.1.4 to TheCompanyVLAN2
vlan add ports et.2.4 to TheCompanyVLAN2

And if you're lucky:

RS3000BrainDeathRouter# vlan show
VID VLAN Name       Used For                     Ports
--- --------------- ---------------------------- -----------------------
1   DEFAULT         IP,IPX,ATALK,DEC,SNA,IPv6,L2
500 TheCompanyVLAN1 IP,IPX,ATALK,DEC,SNA,IPv6,L2 et.1.(1-3,5-16),et.2.(1-3,5-16)
501 TheCompanyVLAN2 IP,IPX,ATALK,DEC,SNA,IPv6,L2 et.1.4,et.2.4

And if you're not, all the phones on your desk will start ringing off the hook.
And your cell phone will start ringing.
And you're running around, trying to figure out why the network suddenly took a dump when all you're doing to trying to reconfigure two unused ports to a new VLAN (mmmmmmmmmm—brains).
So, the lesson I'm trying to impart here?
Riverstone Networks RS 3000s suck!
But, if you are in the position of having to use them, then you might want to think ill of grouping ports as part of a command and apply each command to each port separately. Then you stand less of a chance of knocking multiple ports off a VLAN.
Oh, and one more thing. Riverstone Networks RS 3000s are not known to boot fast. Oh no. They take their time. They take at least three minutes to fully boot. Three minutes may not seem like a long time, but when all the phones on your desk are ringing and your cell phone is ringing, three minutes is a XXXXXXX ETERNITY! It's even worse if you have to run to the other side of the building to find a computer you can use to log into the Riverstone Networks RS 3000.
Me? Bitter?
Did I mention that the Riverstone Networks RS 3000 sucks?
[Note to Smirk: I'm not saying we should replace the Riverstone Networks RS 3000, since it's there, it runs, and can otherwise handle the traffic we're throwing at it. I'm just venting a bit at the sheer braindeathness of the software running the darned thing.]
---
What a cool accessory for when your cellphone is ringing off the hook (link via jwz).
Just got a bit closer to resolving the email situation (yes, it's still in the process of being resolved two weeks after it started). I just now received a call from AbuseBob, who works for the Abuse Department at The Monopolistic Phone Company. Nice guy, and he confirmed that not only is the one server being blocked, but that another server our customer has has also sent spam. He would like to work with us, but we need to make sure we're filtering spam before it gets sent to The Monopolistic Phone Company email servers.
But more importantly—I have AbuseBob's phone number!
Spring recieved a copy of Star Wreck in the Pirkinning, a fan-made film parodying both Star Trek and Babylon 5 and answers, once and for all, in a contest between the Federation and the Earth Alliance, who would win.
And for a fan based film, made over the past six years or so, the quality is surprisingly good (especially the special effects, which rival those found on both Star Trek and Babylon 5) and the battle sequence is suspenseful right up until the very end.
AGREEMENT AMONG THE TRACK GUIDANCE MODELS...WHICH HAD BEEN VERY GOOD
OVER THE PAST COUPLE OF DAYS...HAS COMPLETELY COLLAPSED TODAY. THE
06Z RUNS OF THE GFS...GFDL...AND NOGAPS MODELS ACCELERATED WILMA
RAPIDLY TOWARD NEW ENGLAND UNDER THE INFLUENCE OF A LARGE LOW
PRESSURE SYSTEM IN THE GREAT LAKES REGION. ALL THREE OF THESE
MODELS HAVE BACKED OFF OF THIS SOLUTION...WITH THE GFDL SHOWING AN
EXTREME CHANGE...WITH ITS 5-DAY POSITION SHIFTING A MERE 1650 NMI
FROM ITS PREVIOUS POSITION IN MAINE TO THE WESTERN TIP OF CUBA.
THERE IS ALMOST AS MUCH SPREAD IN THE 5-DAY POSITIONS OF THE 12Z
GFS ENSEMBLE MEMBERS...WHICH RANGE FROM THE YUCATAN TO WELL EAST OF
THE DELMARVA PENINSULA. WHAT THIS ILLUSTRATES IS THE EXTREME
SENSITIVITY OF WILMA'S FUTURE TRACK TO ITS INTERACTION WITH THE
GREAT LAKES LOW. OVER THE PAST COUPLE OF DAYS...WILMA HAS BEEN
MOVING SLIGHTLY TO THE LEFT OR SOUTH OF THE MODEL GUIDANCE...AND
THE LEFT-MOST OF THE GUIDANCE SOLUTIONS ARE NOW SHOWING WILMA
DELAYING OR MISSING THE CONNECTION WITH THE LOW. I HAVE SLOWED THE
OFFICIAL FORECAST JUST A LITTLE BIT AT THIS TIME...BUT IF WILMA
CONTINUES TO MOVE MORE TO THE LEFT THAN EXPECTED...SUBSTANTIAL
CHANGES TO THE OFFICIAL FORECAST MAY HAVE TO BE MADE DOWN THE LINE.
NEEDLESS TO SAY...CONFIDENCE IN THE FORECAST TRACK...ESPECIALLY THE
TIMING...HAS DECREASED CONSIDERABLY.
Or in other words … "We have no clue where this thing is going."
Lovely.
I stepped into the living room to see what everyone was watching. On the screen, one Chinese guy was jabbering (in Chinese, with English sub-titles) about the applications of Kung-fu on everyday life. "If she knew Kung-fu," said the guy, pointing to a girl slipping on a banana peel in exagerated slow motion, "she wouldn't fall down." The other guy, a older man, half drunk and staggering around, wasn't convinced.
I wasn't convinced either, so I stood around, not watching the rest of the film about Shaolin monks playing soccer (see, if I don't sit down, I'm not watching a film, even if I do end up standing around not watching the film to the very end).
It had this quirky humor to it and while the plot was very predictable (a film, about a group of misfits, forming a team, to play some form of sport—not hard to see how this ends) but with such films, it's how the subject matter is presented, and it was good enough to have me stand around not watching the film (okay, I was amused when the two Shaolin Monks were singing at a bar).

WILMA IS MOVING TOWARD THE NORTHEAST NEAR 18 MPH...30 KM/HR. A
CONTINUED NORTHEASTWARD MOTION... WITH A GRADUAL INCREASE IN FORWARD
SPEED... IS EXPECTED TONIGHT AND MONDAY. ON THIS TRACK...THE CENTER
OF WILMA IS FORECAST TO MAKE LANDFALL ALONG THE SOUTHWESTERN COAST
OF THE FLORIDA PENINSULA EARLY MONDAY MORNING.  HOWEVER... WILMA IS
A LARGE HURRICANE AND TROPICAL STORM FORCE WINDS WILL REACH THE
FLORIDA PENINSULA WELL BEFORE THE EYE MAKES LANDFALL. THE EASTERN
PORTION OF THE EYEWALL... ACCOMPANIED BY THE STRONGEST WINDS...
WILL REACH THE SOUTHWESTERN COAST OF FLORIDA ABOUT 2 HOURS BEFORE
THE CENTER OF THE LARGE EYE MAKES LANDFALL.

MAXIMUM SUSTAINED WINDS ARE NEAR 115 MPH...185 KM/HR...WITH HIGHER
GUSTS. WILMA IS A CATEGORY THREE HURRICANE ON THE SAFFIR-SIMPSON
SCALE. LITTLE CHANGE IN STRENGTH IS EXPECTED UNTIL LANDFALL OCCURS
...AND WILMA WILL LIKELY MAKE LANDFALL AS A CATEGORY 3 HURRICANE.
SOME SLOW WEAKENING IS FORECAST AS WILMA CROSSES THE SOUTHERN
FLORIDA PENINSULA... BUT THE HURRICANE IS FORECAST TO STILL BE A
SIGNIFICANT CATEGORY TWO HURRICANE BY THE TIME THE CENTER REACHES
THE FLORIDA EAST COAST EARLY MONDAY AFTERNOON.

HURRICANE FORCE WINDS EXTEND OUTWARD UP TO  85 MILES...140 KM...
FROM THE CENTER...AND TROPICAL STORM FORCE WINDS EXTEND OUTWARD UP
TO 230 MILES...370 KM. SUSTAINED TROPICAL STORM-FORCE WINDS ARE
OCCURRING OVER THE YUCATAN CHANNEL... WESTERN CUBA... AND THE LOWER
AND MIDDLE FLORIDA KEYS. THESE WINDS SHOULD REACH THE SOUTHWESTERN
FLORIDA COAST BY MIDNIGHT... WITH HURRICANE-FORCE WINDS REACHING
THE LOWER KEYS AND SOUTHWESTERN FLORIDA COAST BEFORE SUNRISE.

The eye of Hurricane Wilma is about 40 miles across. This is one huge storm. And the only thing that comes to mind is "Looks like I picked the wrong week to quit amphetamines."
---
We survived Hurricane Wilma. Casa New Jersey weathered the storm nicely (if a bit leaky around two uncaucked windows). In fact, the only thing that took damage were trees and a small ding in my car—from what, I don't know.
We have no power at the moment. I'm at the office right now, making sure everything is running smoothly (Smirk picked me up on the way). Oh, and it's nice and cool now.
More on this (and pictures) once I have more time.
There is no need to call to report your outage at this time.
I supose that if you have read the above, then there is no need to call about your power outage in the first place. But on the first day of restoring power, FPL still has two million customers without power, mainly due to down tramission lines (the huge powerlines running down the middle of the state that power substations).
We're still without power at Casa New Jersey, along with 663,500 other FPL customers. The only reason you're seeing this is because I'm at the data center, which has its own generator. I'm on one of the few Windows servers here, sharing it with P. The Office itself is without power and phone, making for (the most part) a quiet day here, other than the stray office worker asking if they can install a server or have critical people set up a workstation so they can work (three companies so far). The problem is that we're near capacity with the generator and have only two days worth of fuel and we're having to shutdown down non-critical machines. Smirk and J (the other partner in the data center) are off to North Florida on a quest for diesel fuel just in case FPL are unable to restore power to the office building in two days.
So, other than the severe lack of power, a severe shortage of open gas stations and a bazillion trees littering the streets of Boca Raton, things are pretty good.
The serious lack of power is really annoying, and not just because I can't get my daily net fix …
Okay, it's because I can't get my daily net fix.
But when the official word from FPL is November 11th for 95% of customers in Palm Beach County, it's disheartening. Worse still, where we live, we don't have FPL, we have Lake Worth Power which probably just probably resells power from FPL. When I called (and their main number refered me to an 800 number, which when called, just transfered me back to their main number—sigh) they said anywhere from two to six weeks to have power restored. I don't have high hopes to have power back any time soon.
Hopefully the weather will remain nice and cool as it has been since Hurricane Wilma passed.
But we're doing fine so far. Wlofie was able to cobble up a make-shift stove with bricks and the inner rim of a wheel and the stainless steel wok he has is incredibly versatile in what it can do (not only stir fry, but Wlofie was able to cook rice in the thing).
Wlofie is also amazed at the number of people trying to buy charcoal, when all around us is a huge amount of free fuel for the taking. Sure, the wood is still green, but it's usuable (if a bit smokey).
He also had the forsight to buy several lanterns for use as light. They work quite well.
I also kept myself occupied last night by playing around with coroutines on paper. Yes, even without power I'm a power geek.
---
During the first half of the storm:
Our biggest problem durring the first half of the storm were leaks around a few windows—one upstairs and one in the master bedroom. Other than that, nothing horrible happened to the house.
Durring the eye of the hurricane (yes yes, I know, we're not supposed to leave the house durring the eye):
And here's the bamboo in our backyard durring the eye of the storm:
And after the second half of the storm:
There aren't any pictures durring the second half of the storm since I elected at that point to just sleep through the rest. As it happened, the second half had less rain but the wind kicked it up a notch and more damage happened during the second half than the first, with Boca Raton (where I work) getting ravaged:
So that's just a little bit of what we went through.
And the season's not over yet!
P and I are trading off days to conserve fuel and frankly, with the phone system down at the office (not that I'm complaining about that, but I'm sure our customers are) and the notice that support has been cut back due to Hurricane Wilma, it's been rather quiet in the office.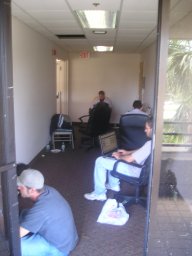 I've got a power cord running from the data center into the Office so I can use my workstation. I did use a Windows system in the data center on Monday, but given the power situtation, it's dark, noisy, cold and dude! Windows! And since it is cool outside, the temperature inside the office is rather nice. So no real complaints here.
I got into the office around 10 am (yearly yes, but hey, given that there's very little to do at night but sleep … ) and across the street was a line of cars stretching waaaaaaaay back all waiting for free ice.
The company that shares space in our data center has set up operations in the hall outside the data center, since that's still the only room with power and our Office can barely hold three people much less a dozen. It looks remarkably like a blogging conference out there, with temporary tables and everybody busily working away on laptops.
Smirk returned with over 200 gallons of diesel fuel for the generator so we're good as far as fuel goes, but the generator is being watched closely to prevent it from overheating. Smirk also got food for everyone here as he found an open McDonald's across the street from his house (even though his house is still without power).
So things are looking up.
Just wish the power would be restored.
Note: The line for free ice is only now clearning up, at 3:45 pm.
---
Found the following email in the support account today. I found it rather amusing.
Stay Safe During Hurricane Wilma

If you are up as early as I am preparing for Wilma … Good Morning!

First and foremost, let me please ask everyone to stay safe and take the necessary precautions to protect your family and property.

The Florida Power Team cares very much about you; we send our warmest wishes to you and your family during this time.

We are all looking for Wilma to blow through quickly so we may all get on with our outstanding, fantastic, passionate, loving, joyful, prosperous, challenging, balanced and fulfilling lives (obviously the list could go on)!
Nice to know someone is being optimistic about this.
Non-office day today.

Earlier Wlofie asked if I liked eggs and could we do something with the dozen and a half we had socked away in the freezer temporary ice chest. I'm not a big egg fan but I do like the occastional omlette or sunny-side up, but not 18 eggs worth of omlette or sunny-side up.
So I suggested Deviled Eggs. Hard boil, cut lengthwise, scoop out the now cooked yoke, mix with mayonnaise and dill, scoop the mixture back into the cut eggs, dust with paprika, eat. It's the only form of egg that I can just keep on eating and with our crew, it didn't last the night.

The kids are going through batteries like you wouldn't believe, what with their various variations on the Game Boy and what not. I found one of their units in the mailbox—apparently they were too lazy to actually take the thing inside while they rode their bicycles.

I'm still working on co-routines to keep myself occupied, keeping the midnight oil burning (in this case, literally—kerosene lamp right on my deskd) as I work through an implementation. It's an interesting concept, a routine that is almost, but not entirely like, a thread but where multiple calls result in the co-routine picking up where it left off and not starting over again. Once we get power back I'll write up a longer entry explaining what I've been working on (since my notes are on my desk at home, and right now I'm at work writing up the past few days).
On Monday night, after Hurricane Wilma blew past, the sky was clear and for the first time since I can remember, the night sky was ablaze with stars, and even the faint Milky Way could be seen stretching across the sky. It was a beautiful sight and one that was repeated Tuesday night. But since Wednesday, the stars are slowly being washed out with the dawn of civilization as power is slowly restored to South Florida.
For a change of pace, we all got out of the house.
Spring, Wlofie and The Kids went to Negiyo (she to work, they to hang out someplace with power and more importantly, Internet) and I elected to hang out in the office.
Net fix, you see.
Only I didn't get much of a fix.
About an hour later, Smirk and I went out in search of food and petrol and that alone took the better part of two hours. And back at the office, Mark was looking to hang out, so the three of us spent hours talking about various topics, including generators, Negiyo and war stories from FAU. By the time Mark left, it was time to pick up Spring & Co. from Negiyo.
Still without power.
Sent more bottles out into the open sea, but still, no replies nor ships in sight.
Beginning to hate the taste of coconut.
Spent night with family and friends playing D&D. Fun was had by all.
Got the office machines up and running, then answered the remaining support tickets, and have spent the rest of the day surfing the Internet and really beinging to hate Lake Worth Power. You can tell the border between Lake Worth Power and FPL because on the FPL side it's all lit nice and bright, and on the Lake Worth Power side it's still North Korea.
Sigh.
For Hallow'een this year, Spring (dressed as a drag queen) is taking The Kids (Death and an unemployed Jawa) to the Mall for Trick-or-Treating.
---
One hurricane knocks a tree down.
Another one knocks it back up.
(links via Sean Tevis)