or
How many people does it take to get to the center of a condo sale?
Today's the day.
At 3:30pm I stop off at Condo Conner to figure out which of three keys is the house key. Not readily using that key, I had forgotten which key was the actual key. I was a bit upset that I could only find one potential key as I was supposed to supply two. Then I remembered—one I gave to the handy man and one to the realtor and that's all I had. I didn't have time to make a copy so I was hoping that was okay.
Having found the correct key, I get back into the car and headed over to the realtor office for the closing. I arrive a few minutes late due to traffic (I got stuck at a left-turn light for three cycles). That apparently was no problem as the buyers spent the time signing papers.
I managed to get by with signing my name only half a dozen times, which is weird since I've had to sign my name about a dozen times when getting my car (bought it outright) and about two dozen when getting insurance on the car.
Heh. Go figure.
One hour later (and about a bazillion signatures from the buyers) and I'm out one condo.
I am officially debt free!
No credit card debts. No car payments. No mortgage. No student loans (not that I ever had any). Nothing.
I have achieved the modern American Dream! Debt free living!
Along with one of the largest checks I've ever seen. I actually cleared a bit more than I was expecting, which was very nice.
The final price was only a thousand less than my asking price, and because I paid the extortion last month, I got some of that back so the actual amount paid was only $705.86 below my asking price.
Not bad at all. Although that now means I loose a deduction at tax time.
The entire closing went without incident. Well, okay, there was a small incident but it's still unclear who knocked over the water glass, and fortunately, no documents got wet. But other than that, the closing went without incident.
Oh, and by the way, it took six people to close the condo sale.
---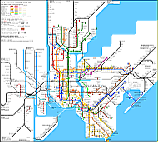 Map junkie that I am, I came across this New York City subway map (via live from los(t) angeles). I mentioned it to Spring (another map junkie and who is still in Sweden—thank God for the Internet where we can chat all we want for the price of a local call) and she mentioned wanting to get that image as a poster. I suspect we could take it to a photo shop or a print shop and have them print up a copy poster size.
"Hi, I'm Sean … "
"Hi, Sean!"
"… and I'm a mapaholic."
---
I was born in Detroit and while I wasn't exactly raised there, I did spend many summers there (technically, Royal Oak, a suburb just north of Detroit) so I have somewhat of a softspot for it (although I'm sure that one winter spent there would cure me of that affliction).
But certain events caused a once great city of over two million to decline, leaving much of the city abandoned. And a shame too, since many of the buildings are (or were) beautiful. Or at least something other than steel, glass and concrete.
So in coming across The Fabulous Ruins of Detroit (via life from los(t) angeles) I'm getting this great feeling of nastalgia. Not that I've seen many of the buildings pictured, but enough of them and it's a shame to see them destroyed. I mean, how many apartment buildings do you see with corner based semi-turreted coner balconies?
And okay, I have a fondness for brick buildings. I mean, can you imagine living or working in a building this grand?
Sigh.