Saturday, I spent ten hours at my high school's 30 year reunion (which I didn't blog about because other than the participants, who wants to read about a bunch of people you don't know? Also, what happens at Las Vegas stays at Las Vegas). Sunday was the every-other-week D&D game (which I don't blog about because other than the participants, who wants to read about a bunch of people you don't know pretending to slay dragons? Especially when said players don't slay the dragon?). Monday was an eleven hour drive to Brevard (which, unlike the previous two days, I did blog about because who doesn't want to see a stuffed alligator wearing an American flag?). It all finally caught up with me. I went to bed early (well, early for me). I reluctantly got up late (well, still early for me, but given the time I went to bed, it was late).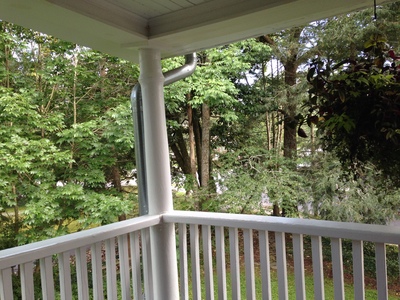 Bunny and I had lunch at the Pisgah Fish Camp (and here I would include a link to the website, but apparently, The Pisgah Fish Camp is so busy serving up good food, they don't have time for a pesky website). But while the experience there was pretty typical (order and eat good food—seriously, the fish there is good) the experience getting there is anything but. It's odd, but space and time are warped here in Brevard. It seemed like a long drive to the Pisgah Fish Camp (and on one of the walls is a quote from the founder—"people called me crazy and said no one would drive this far out of Brevard for a meal.") and yet—it was only four miles! Heck, Bunny and I drive farther than that just to our nearest IHOP, and that doesn't seem all that far for us. But here? It seemed like a long drive.
Traffic here is also weird. There is much less traffic here than back in Lower Sheol. And yet, it's still annoying. I'll pull up to a clear intersection, and just as I'm about to turn, an enevitable train of cars just moseying along the road materializes out of nowhere, too close together to make a safe turn, far enough apart to trick you into thinking you can make a safe turn, but no, you can't.
---
I was trying out a new search engine, Million Short (which allows you to easily exclude the top N websites) and while trying it out, I came across this:
There are a few towns in the US, though, that have very high numbers of white squirrels. This could be for a few reasons. First, predators in towns tend to be low. This cancels out the negative selection against the white morph. Sometimes in towns, a few neighbors will also select against the normal coloration of eastern grey squirrel. Yes, that happens. After a few generations, all you get are whites, and they can spread to the rest of the town! Fascinating!

The Big 5 White Squirrel Towns
It's interesting that there are quite a few "Home of the White Squirrel" across the country.