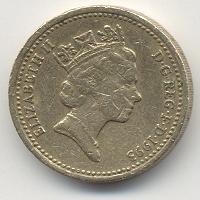 Spring
came back
with quite a pocketfull of change (the currency exchange booth at
Miami International Airport
would only exchange bills, not coins). On the drive back we talked a bit about
foreign currency
and the topic of British money came up, of which she had a few coins (a new penny, two pence and two single pound coins).
"I wonder if Queen Elizabeth can use this for identification," I said, holding up one of the coins. Spring giggled at the thought ("ID?" "Here you go," the Queen says, handing him a few pounds. "Right then, in you go!")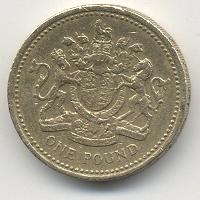 I noticed though, that the portrait of the Queen has changed over the years. On the earlier coin (1983) she appears younger, with a smaller crown than the more recent coins (1993). Also, the pound coins feel and look more like tokens than coins to me (they're actually quite thick, about the thickness of two U. S. pennies, and slightly larger in diameter) and for their worth, they're quite small in size (the two pence coin is slightly larger than the U. S. quarter).