A few weeks ago, the top arm coverings of my office chair basically crumbled and fell off.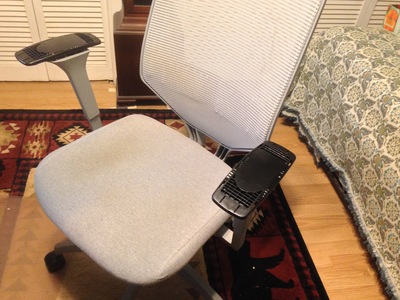 The old coverings were some combination of rubber and plastic and I guess over time, they just became brittle or dried out, and fell apart. This exposed the underlying hard plastic frame underneath. It wouldn't be that bad actually, except for all the square holes, used to both lessen the amount of hard plastic required, and to give the old covers something to grip onto.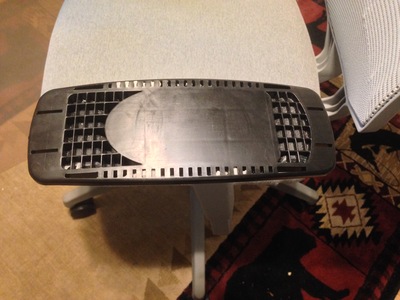 Resting my arms on the bare arm rests is uncomfortable—it's not exactly cutting into my skin, but I can feel the square holes which is unpleasant, and left a square pattern on my arms. My idea was to take some foam and wrap some cloth type material around it and the plastic frame. But it was Bunny who made the new covers from material lying about Chez Boca.
It's basically a tube of cloth wrapping the foam, with some extra material folded back onto itself to form some flaps to go around the ends of the arm rests. Here I am demonstrating how it works with my fingers.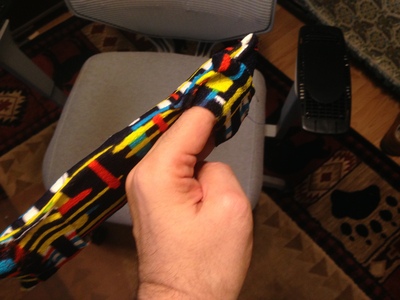 The material has some stretch ability, which helps to keep it on the arm rests.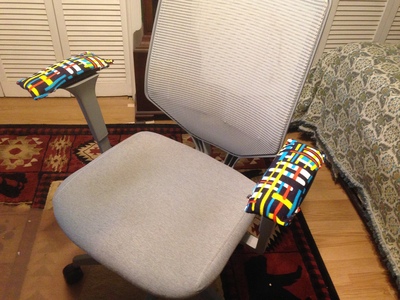 It adds a nice bit of color to the chair, and it's a lot more confortable than the old covering. Nice job indeed!