Still rainy here in Brevard and the clouds are very low in the sky here: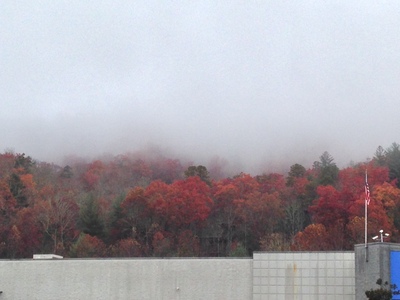 There is no real skyline anymore here, just trees disappearing into the mist …
---
The clouds lifted, the sun came out, and round 3:30pm, I said to Bunny, "Let's go to Pretty Place!"
Pretty place, aka The Fred W. Symmes Chapel, is a church up on the side of a mountain, just across the North Carolina/South Carolina state line. 11 miles (18km) "as the crow flies" from The Bromfield Inn, or 17½m (28km) as the car drives. And I implore you, gentle reader, to check the link out, to get into the mind set Bunny and I were in as we headed out to Pretty Place.
Little did we expect fog. One minute, it was sunny. Then we rounded a bend and: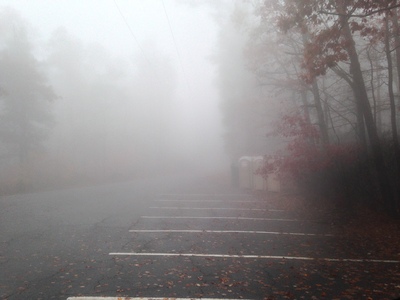 The last time I encountered fog this thick it was the late 90s, I was driving along Florida state 60 doing 70mph (110kmh) at 1:30am trying desperately to avoid a semi-truck reenacting "The Duel". And the time before that I was in elementary school, being driven to Brevard Elementary School by my mom. But this? Today? This took us completely by surprise.
It gave the entire place this ethereal feel to it: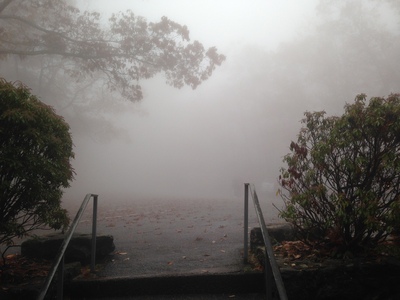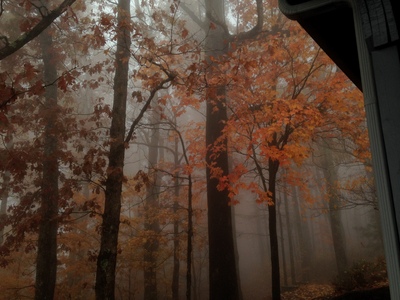 And then we entered the chapel and were greeted with: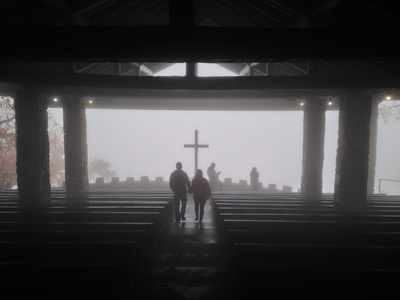 It was surreal. You look out, and there's nothing but this white void.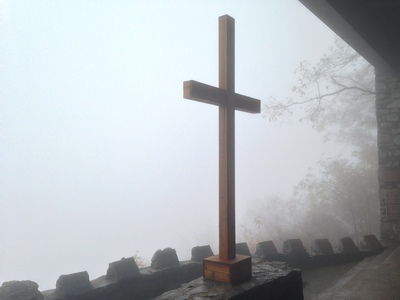 Driving back down, the fog just … vanished … just as quickly as we entered it going up.