Another day, another mini-road trip. This time, to Highlands, North Carolina. An old friend lives in the area and we decided to drive out to have dinner with them. On the way there, we ended up in a small Mexican restaurant in Rosman for lunch (one of three restaurants in town as it turns out). Not bad, but the town of Rosman (population: 576 as of 2010) makes Brevard look positively metropolitan.
Then onwards to Highlands. Along the way, we came across a salvage place (sans website, else I'd link to it) and stopped. There, I found yet another stash of doors: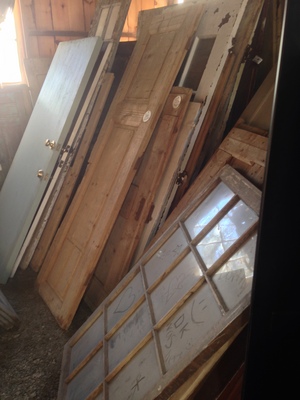 I'm sensing a theme here.
Anyway, we finally arrived in Highlands at 4:45 pm, which was bad since the entire town rolls up the sidewalks at 5:00 pm on the dot. Fortunately, Bunny's friend was at the restaurant, where a good time and good food was had by all.
After a few hours, it was time to drive back along US-64 to Brevard, in the dark. I had fun driving along the up-and-down widing road, but for Bunny, it was a white-knuckle experience.