A phoenomenon I haven't encountered for years is static electricity sparking in blankets. You just don't get that in Lower Sheol due to the high humidity.
Another odd phoenomenon that has happened twice now here in the The Red House Inn (and it will sound odd, but … ) is the bed shaking in the wee hours of the morning. The first time it happened, I woke Bunny up and she too, could feel the bed shimmying. Back home at Chez Boca, this happens from time to time, but the affect is milder, and is due to freight trains rumbling by (we live a bit over ½ mile (0.8k, again for the Imperially challenged) from the railroad favored by freight trains). But there are no freight trains in Brevard—there are no railroads in Brevard! I'm hoping there's a rational explanation for it besides an earthquake. Anything but an earthquake! I'd even accept a haunting!
But no earthquakes.
---
For dinner, Bunny and I went to the Jordan Street Cafe in downtown Brevard. We went for the rhubarb pie, but instead we found a tree: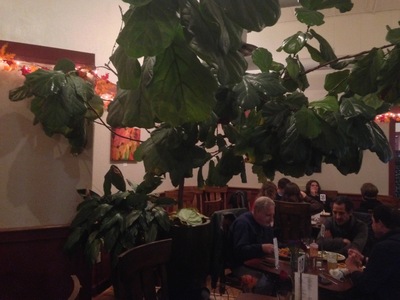 In all seriousness, we did go because we heard the rhubarb pie was incredible, but with rhubarb being out of season, it was not to be.
We did have dinner there, and while the food was excellent, the service was … odd. It serves upscale food, but you order it at a counter, then sit and wait for your order. It was a long wait in line as chaos seemed to reign over the place. And it was a long wait for the food to arrive.
In our opinion, the long wait didn't justify the food, despite how good it was.