It's our last full day here in Michigan and because we're a) on vacation, and b) lazy, we got a late start on the day ("breakfast" was around 3:00 pm). Around 8:00 pm, Bunny got an idea—we should get some sub sandwiches and store them in the room fridge for when we eventually get hungry. There's a Meijer across the street, and from the web site it appeared they had a deli section. I mean, if Publix sells subs, then Meijer might sell them.
Driving across the street (we drove, in case they did not, in fact, sell subs, we could try elsewhere) was easier said than done. And while the Meijer was still open, the deli counter, sadly, was not. Plan B—Subway. A quick Google search revealed half a dozen Subway shops within five miles, all but one still open.
One.
IT'S STILL DAYLIGHT OUTSIDE!
Buy hey, it was only a few miles away.
And it was closed!
Did I mention it was still daylight outside? Close to 9:00 pm by now, and the sun is still shining in the sky. Bunny noticed a Kroger was in the shopping center, and they were open!
But alas, their deli section was closed.
What is with this town? IT'S STILL DAYLIGHT OUTSIDE!
Yes, we did get some food from a nearby Arby's, but still, IT'S STILL DAYLIGHT OUTSIDE!
---
You can probably pick this place up for a song: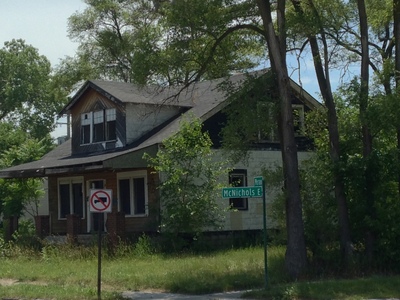 It's a bit of a fixer-upper, but the lots on either side are completely empty, so you won't have to contend with noisy neighbors.
Of course, there's quite a bit of that in Detroit—a house in need of some DIY TLC in a sea of empty lots.