It seems I only have these odd encounters when on vacation. I was walking towards the lobby of the hotel as half a dozen people, probably early 20s, maybe, were walking the other way. The one in front stops, and asks me directly, "What's your first name?"
I notice he's wearing a name tag attached to a lanyard, and in large bold letters is his name: XXX.
"Sean," I say. "I see your name is—"
"And what's your last name?" he blurts out before I can finish.
"Conner."
"Cool! What's your middle name?"
"Patrick."
"Thanks." And the group starts walking down the hall.
It was then I noticed the familiar yellow of a school bus through the front door of the lobby.
---
Bunny and I were at a drug store when I came across this section of empty shelves: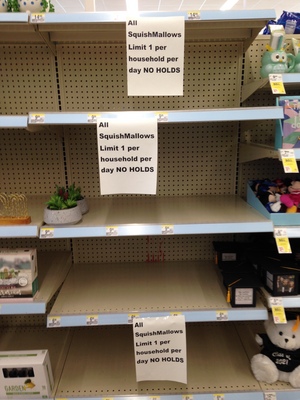 I have no idea what "SquishMallows" are, but whatever they are, stores in the area are unable to keep them on the shevles, even with draconian restrictions. Man, the Barbarians in this area! Keeping the SquishMallows off the shelves like that!
---
Bunny and I met with my aunts Kay and Jan at Plymouth Roc, a restaurant partly owned by Kay's son Jordan, who is also the groom in the upcoming wedding on Friday.
As we were leaving, Jordan came from the kitchen, bearing a bowl of candied walnuts. "Here you go," he said. "I made it from my mother's recipe."
"I never made this!" said Kay.
"But my customers don't know that," Jordan said.
"Jordan!"