Today I learned that my fellow cow-orker JC is leaving The Company at the end of next week. So, with JC leaving, my manager leaving Real Soon Now™ and with the QA engineer having already left, that leaves … um … me!
Wow.
I have a lot of training ahead of me …
---
Bunny walked into the Computer Room bearing a copy of the The Transylvania Times. "Do you know what's open in Brevard?"
"No," I said.
"The Aluminium Christmas Tree Exhibit!" she said, showing me the lead article in section B of the paper.
Yes, it's that time of year again, when the Aluminum Tree & Æsthetically Challenged Seasonal Ornament Museum and Research Center (aka ATOM) is open to the public.
I first came across this wonderful exhibit fourteen years ago, and at the time, I mentioned that my only exposure to aluminum Christmas trees was "A Charlies Brown Christmas." What I didn't mention in that post was that I thought aluminum Christmas trees were tall aluminum cones—the reality was a bit different: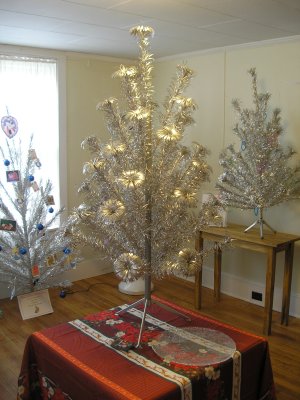 (Note: Bunny and I actually saw the exhibit back in December of 2012, but I did not blog about it then—perhaps I was being lazy or something)
I was mildly disappointed they were not the large cones of painted aluminum, but they're cool nonetheless.