Friday was an absolutely beautiful day to drive—clear blue skies as far as the eye could see. Bunny and I checked out of the hotel at 11:00 AM and started the drive to WNC Farmers Market to pick up some fresh produce before driving home. The WNC Farmers Market is right off I-26 so it wasn't like we were going that far out of our way.
Only the traffic to the WNC Farmers Market was slow. Man, it took us much longer to get there than expected, and then we had to muck about with finding an ATM because some of the farmers at the WNC Farmers Market don't accept plastic. So there was some time lost there. Soon after that, we started the drive home.
The first 19 miles took us well over an hour to drive. For some reason we never were keen to, half of I-26 Eastbound was blocked off between Asheville and Hendersonville. It was a portent of things to come.
Our fantastic time of 11½ hours to Brevard was countered by our worst time of 13½ hours from Brevard. Traffic along I-26 was horrendous as much as the weather was wonderful. But we made it back and now we recuperate from our vacation.
---
The photos I present of Brevard are the ones I tend to find whimsical or surreal, and when not repeating myself, I hope I have done a good job. It's not everyday that one comes across a bear wearing a hat: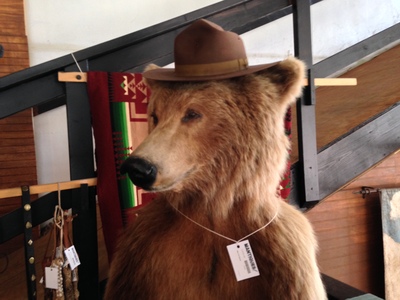 I decided against posting that one because, let's be frank, when you come across a bear wearing a wig and a dress, a hat-wearing bear just doesn't cut it anymore, you know?
But during this trip, I took a photo that was so out there, that I hesitated to post it. Mind you, I don't go that much out of my way when I take these pictures—I see these weird and (usually) wonderful things as I'm out and about and take a picture.
It's with this in mind that I found myself in a grocery store in Brevard. I'm not going to name names but be aware that there are at least three different grocery store companies operating in Brevard. So I'm in this grocery store when I come across … well … this: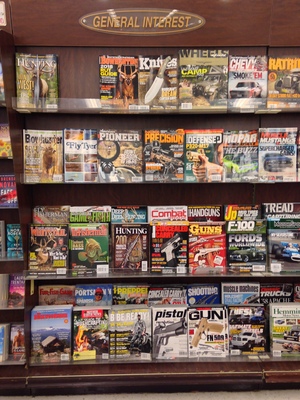 If you click on the picture, you'll see what this grocery store thinks passes for "General Interest" magazine reading in this part of the country. Had this section been labeled "Hunting" I would have just walked on by without a second thought.
But "General Interest?"
This may be the most surreal picture I took on any trip to Brevard, cross-dressing bear included (even if it's a female bear, I would still consider it "cross-dressing" as it's wearing clothing not native to its species). In fact, I find the cross-dressing bear less disturbing because at least it was an intentional Hallowe'en display. The "General Interest" reading rack? If that's intentional, I'm not sure what it says about the grocery store or the area. And if it's unintentional … I … I'm still not sure what that says about the grocery store or the area.