As appreciation of our hard work, The Corporation decided to treat us (and by "us," I mean "The Ft. Lauderdale Office Of The Corporation") to lunch at Tap 42. Wanting to know just where Tap 42 was located, I opened up Google Maps on my smartphone and started to type in the address. I got as far as "1411" when I noticed that the top possible option was "1411 S Andrews Ave Ft. Lauderdale"—the address of Tap 42.
"How?" I asked my office mate and fellow cow-orker T. "How did it know?"
"Well, perhaps Google noticed a flurry of similar queries coming from the same location," said T.
Plausible I suppose. But I'm not sure how I feel about that. It seems … eerily prescient and disturbing. Almost like Cyber Brother is watching over us.
---
I received an automated call from my bank (a credit union). It was the Credit Card Fraud Dectection Unit asking me to verify a transaction for $1.00 at a gas station on September 22nd. I had no idea what date it was (turns out—it was earlier today) and I did hit a gas station earlier this week. But gas isn't 7¢/gallon (I mean, I do live in Boca) so I knew it wasn't me.
I declined that transaction and was then informed I should call and talk to a representative to resolve the issue. It turned out there were two transactions today—the one for $1.00 at a Sunshine gas station in Miami, and a second transaction for $0.00 (the representative called it "an authorization for billing") at a Citgo gas station in Houston, Texas!
Oh my …
A new card is on the way, but again, I find myself a bit uneasy. It's wonderful that my credit union is looking out for fraudulent use of my card, but … it's another set of computers watching over me.
So one of our neighbors has put up their yearly Hallowe'en display: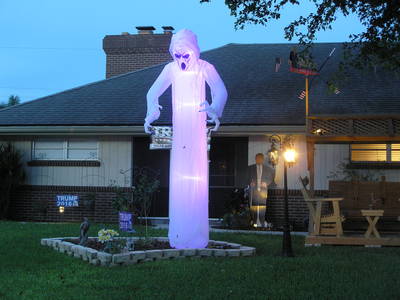 Never mind it's not even October yet.
Sigh.
But I think our neighbor has made an untintentional political message with this display, as the Trump signs have been out and about for a few months now, and it's lacking a life-sized cardbard cutout of Hillary to truly make this a commentary on the current Presidential Election.