"Oh no!"
"What?"
"Now I'm earwormed!"
"With what?"
"Save a horse, ride a cowboy."
"Wasn't that the plot to 'Brokeback Mountain?'"
One of the things my dad comments on these days is the preponderance of restaurant patrons peering into their smart phones or tablets, ignoring everyone else, which is okay, because everyone else at the table is peering into their smart phones or tablets. Even though they're eating together, they are still eating alone.
One of the things that still gets me is the preponderance of televisions in restaurants. I find them terribly distracting and very hard not to watch. I can somewhat understand a sports bar having them to show sporting games, but McDonalds?. The worse offender I've found is The Flashback Diner which has a television per booth!
Insane!
So what do Bunny and I find tonight at Olive Garden?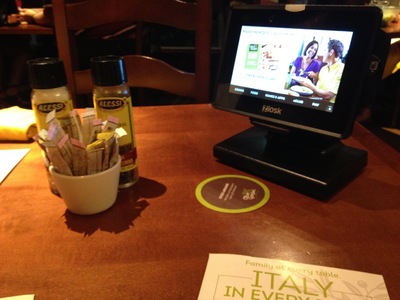 A Ziosk on every table.
Apparently they've been around for a few years and so far, Bunny and I have managed to avoid the restaurants that have the darned devices.
In theory, it seems like a Good Thing™. You can place orders for drinks and desserts through the device. And you can signal for the server (I presume some sort of signal is sent to the kitchen or the server lounge or something but all we noticed is a red light flashing on top of the unit when we did this) and pay the check (the previous party at our table still owed 7¢—how I do not know). But the incessant advertising for food, drinks and "pay-for-play" games just got to be too much (even though the unit itself was thankfully quiet).
We ended up turning the device to face away from us.
I don't know. It just bugs me on some level. Do we as a nation have the attention span of a rabid ferret—oooooh! Shiny!
Two months later and we're still waiting to install updates to "Project: Sippy-Cup" into production. We were finally given the "okay" this week, but have twice scrubbed the launch deployment because … "reasons."
Sigh.
So there's very little for us (the Call Processing team at the Ft. Lauderdale Office of The Corporation) to do this week. And because of that, I've started back to work on a small geometry problem that floated around the office some time last year—find "x":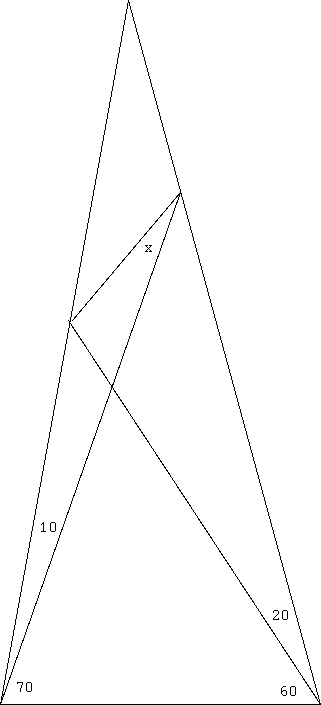 I can't be that hard, right? All you need to solve it is geometry. You know, the interior angles of a triangle sum to 180°, what constitutes congruent triangles, all that stuff you should have learned in the 10th grade but have probably forgotten by now.
Um … yeah.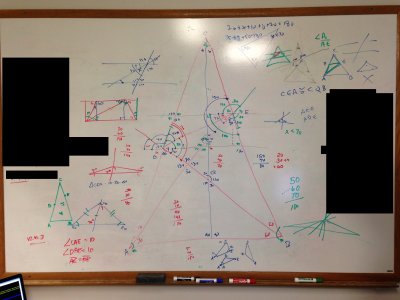 Fellow cow-orker T didn't solve it (and took a copy home for his son to work on). T2 solved it by using trigonometry. And it took a few hours of hashing it out between myself and R to get a purely geometric solution to it.