I arrived at the Ft. Lauderdale Office Of The Corporation and on my desk, I find a paracord survival bracelet. Odd … but I do seem to recall something about this in email a few days ago and sure enough:
From

The Ft. Lauderdale Office Manager <

XXXXXXXXXXXXXXXXXXXXXX

>

To

The Ft. Lauderdale Office of The Corporation <

XXXXXXXXXXXXXXXXXXXXXXXX

>

Subject

Safety Committee Update - New Paracord Survival Bracelets

Date

Friday, October 23, 2015 11:11 AM

New Addition To Our Safety Kits
Paracord Survival Bracelets

Emergency Preparedness Taken to the Next Level

The Safety Committee's gift to YOU for staying up-to-date with procedures and attending drills!

Bracelets will be handed out on Tuesday, October 27th
Place then with your Safety Kits and/or take them on your next trip
Stay tuned for our next Emergency/Fire Evacuation Drill

Ways Paracord Bracelets Can Work

Makeshift Shelters
Fishing Line
Tourniquet

Visit website for more ways you can use Paracords
Really? What safety kits? Did I mess that memo?
Anyway, I have this paracord survival bracelet on my desk.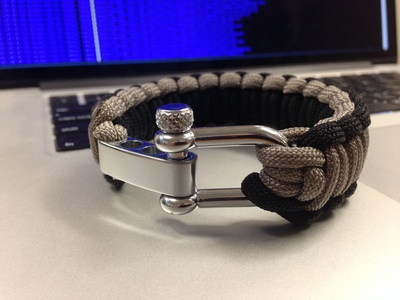 It barely fits around my wrist, and that connector, while very sleek, is hard to actually use. The pin screws in, and getting everything lined up while attempting to wrap this thing around your wrist is not easy. And the little hairs on my arm kept getting bound around the pin as I was screwing it in. Ouch. So no, I'm not wearing the darned thing.
I could see getting this five months ago, you know, at the start of hurricane season. But whatever. I have this paracord survival bracelet on my desk. And while it's great that I can use it to start fires or trip the machete wielding serial killer, I don't do the camping thing. My idea of roughing it is a hotel with no wi-fi (free or otherwise). I suppose I could use it to rig something up on Hallowe'en so when the kids come up to the door and yell "Trick or treat!" I can yell back "Trick!" and trip them or something but really, that's too much trouble.
And now that I've unravelled the 10′ of paracord, I'm not sure if I can form the bracelet (link via fellow cow-orker B) as tight as it was. I suppose I could learn to tie a few knots.