I have two complaints about The Red House Inn. One, the bed is too soft for my liking and I find it hard to sleep at times (Bunny's complaint about the bed—it's too high, requiring mountaineering equipment to literally climb into bed).
My second complaint has to do with the bathroom door.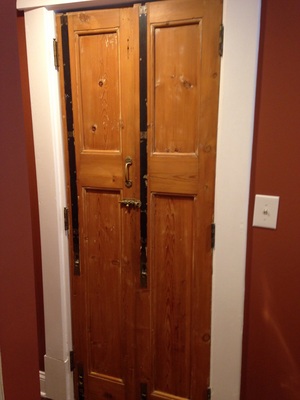 The above picture is taken from inside the bathroom, and as you can see, there are no door knobs, just a pull handle on one side.
The pull handle is on the wrong side.
You see, there's a strip of wood running down the center of the door on the other side, covering the vertical gap between the two doors (although there's not much of a gap—in fact, the two doors are quite snug when closed). This strip of wood is attached to the door with the handle. When both doors are fully closed (and like I said, they're quite snug when fully closed) it is impossible to open the doors.
So last night, I'm pulling on the handle and the door is just sitting there, refusing to open because of that strip of wood running down the middle on the other side. There's nothing I can grab onto on the right side in the hopes of opening it up.
In the end, I had to knock hard on the door to get Bunny to open it.
---
For those of you looking to flesh out your Superman costume, look no further.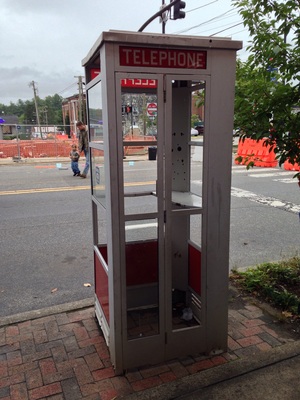 Okay, so it's lacking an actual payphone but when was the last time you saw an actual phone booth? Okay, when was the last time you saw an actual phone booth in person and not on television or in the movies?