Bunny thought we should try the Cardinal Drive-In (sadly, no website), a traditional drive-in burger joint just a few blocks north of The Sunset Motel. We arrived to a nearly empty lot (amazing, but we did arrive significantly before noon so maybe that helped).
Now, you would think that being at a drive-in, we would be eating in the car, but that would be too cliché—instead we ate in the dining room.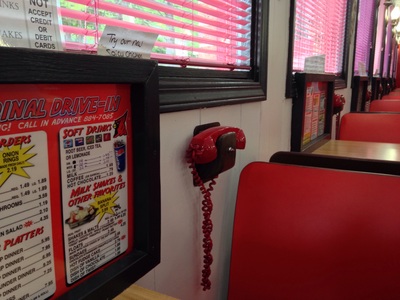 But to enmesh you in the whole drive-in theme, each booth had a phone where you could place your orders. The clerk could barely hear us through the device though, and instead walked over to our booth to take our order.
The food was quite good but I was rather surprised that in this day and age, there still existed a business that refused to accept plastic money. How authentically traditional (not to mention archaic but I digress).
But other than that, eating in and ordering face-to-face, our experience at the Cardinal Drive-In was exactly like eating at a drive-in burger joint.
---
So at the drive-in, I came across this menu item—"breaded fried mushrooms!"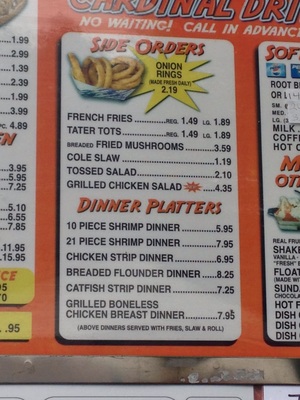 This isn't a thing I'm again, not aware of, right?
Right?
---
Given that Brevard has been rather crowded, Bunny thought it might be a good idea to try nearby Hendersonville for dinner. "A steak house," she said. "Binion's Roadhouse sounds good."
So Binion's Roadhouse it is. Some thirty minutes later we're driving through the parking lot of Binion's. The full parking lot of Binion's. The line snaking out the front door and across the parking lot of Binion's. "This place seems full," said Bunny. "Why don't we try downtown Hendersonville?"
So downtown Hendersonville it is. A few minutes later we're driving though downtown Hendersonville and not a free parking space to be seen. Sure, there were a few empty parking spots, but there were people nearby hawking them for $5.00 a pop. It didn't help that a few streets were closed off for pedestrian use only. Man, what is it with North Carolina towns in the summer? Are they always this crowded? "You know," Bunny said, "Binion's wasn't that bad a choice."
So Binion's Roadhouse it is.
The wait wasn't that bad, actually. Maybe ten minutes. And the food was worth it (except for the fried pickles—they were a bit greasy and to me, tasted a bit like fried fish). But vegetarians and those with nut allergies are advised to avoid the place.
There is also no relation to Binion's, the Las Vegas casino, excpept that the owner of Binion's Roadhouse is friends with the owner of Binion's and has a license to use the name (I asked).