"We should definitely do that at Black Hat!"
"I didn't know you were into haberdashery."
"What?"
"I think you mean millinery. Haberdashers generally sell buttons and thread and stuff."
"Really?"
"Yes."
"What are you guys talking about?"
"Your fascination with hats."
"You mean Black Hat?"
"Yeah. Haberdashery."
"Millinery!"
"Oh, sorry. Millinery."
"You guys are crazy."
"We're just pushing it to eleven."
---
I'm checking my snail mail and … what's this? A check?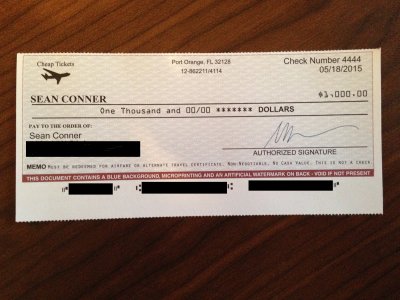 You mean the check was in the mail?
Oh wait … it's one of those "promotional checks" and not a "real check," even though it has a check number, it's made out to me, has the value as both numbers and words, it's signed, and has what look to be a routing number (to an Australian bank‽) and account number. Also, across the bottom it has: "THIS DOCUMENT CONTAINS A BLUE BACKGROUND, [Check! –Sean] MICROPRINTING [Oh yes, it does. It doesn't make much sense, but I can make out the letters. —Sean] AND AN ARTIFICIAL WATERMARK ON THE BACK [Yup, "IPS." So, check! —Sean] — VOID IF NOT PRESENT" [Nope, it's all there, so it's not void. —Sean]
And there is the story of man who deposited a "promotional check" for $95,000 …
So maybe it's a real check?
Perhaps I could try depositing it? [No! —Bunny] [Awwww! —Sean] [Okay, it's your bank account to lose … go right ahead! —Bunny] [Woot? —Sean]