Hoade and I were exchanging emails about AdWords today. He's trying to get his writing career into overdrive, seeing how every other job he's tried never worked out. I advised him against AdWords unless someone else was footing the bill, as it can get expensive.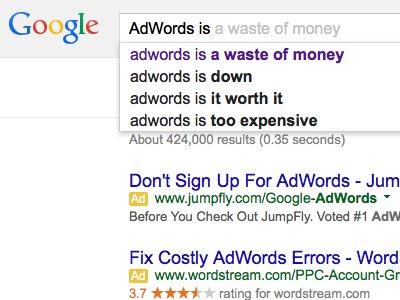 I've also heard first hand that AdWords wasn't worth the money spent on it.
On the flip side, I found that AdSense wasn't worth it for me. Sure, if my blog had a bit more focus, like I was writing about gendered bodies in Japanese pornographic anime and horror through a Foucauldian framwork in order to analyze the West's gaze upon the world, Google would have had a better time generating related advertising towards the blog, but alas, my blog isn't that focused and the ads I did get were bizarre. And it didn't help me that not many people were seeing the ads.
Things might have changed since my last experiment with AdSense (or what I heard about AdWords), but I still cautioned Hoade about wasting money on AdWords. I feel he would do better by getting his name out there on podcasts and web-based forums. At least that way, he won't spend any money.
Last words from Hoade:
Just to add a little coda to our AdWords / Facebook ads convo, the for-real serious consensus seems to be "Maybe it could work. Do some A/b testing with your massive pile of ad money. One way might could work gooder than another." Not even XXXXXXX kidding.

Actual quote: "She ended up with a 1.3 percent click-through rate, which is actually very good." I believe this is true, but lord, it doesn't make you run for your checkbook.
Yeah, I'm thinking small sites need not apply.