Bunny and I just saw Jamie & Adam UNLEASHED at the Kravis Center. What a fun show. Adam and Jamie would select crash test dummies victims volunteers (and there were no shortage of thoses) to come up on stage to help demonstrate some principle of physics, such as a nine year old girl lifting two grown men a foot above the stage, or arranging four men in a sitting position without chairs, and other physics-based tricks.
They also talked about several myths they've done on their show Mythbusters which included lots of explosions. A lot of explosions. Including a several minute clip of various things they've exploded over the years (like water heaters, cars, buildings, cement trunks, more cars and in general, nearly every type of explosive device you can conceive of) that nearly brought down the house (literally, since they boosted the base so you could feel the explosions rattling the theater).
And to end the show, they shot a volunteer with a paintball gatling gun for what seemed like a solid minute (don't worry—the volunteer was wearing the suit of armor Adam wore to protect him underwater from sharks) leaving one paint covered volunteer and a volunteer shaped space on the wall behind him.
Very amusing stuff.
But I think the most amusing thing to happen at the show happened during intermission. I received the following text message: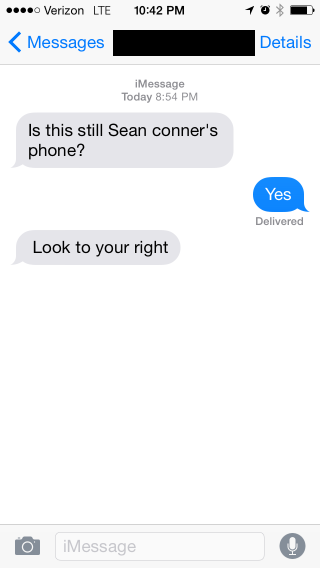 I didn't recognize the number, and it took me a few moments to decide to even answer "Yes." The response to my response was classic, and indeed, when I looked to my right, I saw my old roommate Rob, his wife Laura, Squeaky and his wife Tanya, sitting at the other end of the aisle.
'Tis a small world indeed.