Now that Bunny's brother has received his gift, I can talk about it. This past Monday on a whim, Bunny made this tiny cutting board: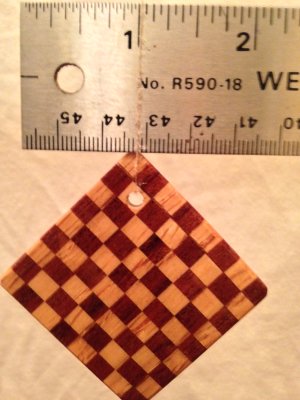 The thing was, she made this with her table saw! You know, this huge monsterous thing with a 12″ or 14″ circular blade o'death spinning at a bazillion revolutions per second? Yeah, she made this teeny little cutting board with that.
But she made it to test out the capabilities of a new piece of equipment she bought—the Micro Jig GR-100 GRR-Ripper. It's a pretty amazing device used to push wood around and through the many spinning blades o'death that lurk in the wood shop (in our case, the garage). We've seen it used enough times (yes, we watch Steve Ramsey every week) that Bunny felt it might be worth getting.
And yes, it was worth getting. The demonstration videos that come with it are astounding (most impressive to me was cutting dados in a dowel). In fact, she was so impressed that she got a GRRR-Ripperfor her brother, and sent along the cutting board as an example of the type of work possible when using it.