Bunny and I hit the Chalet Suzanne Dining Room Lounge for breakfast.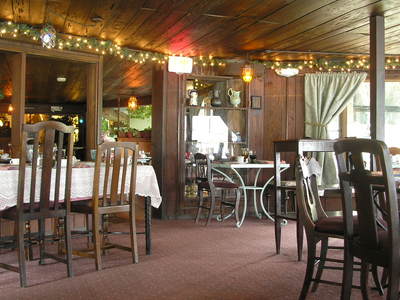 The Dining Room Lounge is a multi-level facility. Really, each room is practically its own level, usually a few steps up or down as you work your way through the place. The decor reeks of a high-class restaurant and the staff is, as always, exremely nice. We're lead through several rooms (and levels) to our table, overlooking the lake (and incidentally, right below our room—yes, we didn't have that far to walk); jazz music barely audible in the background. Our waitress handed us the breakfast menu, a piece of slate just slightly smaller than an iPad with that day's selection.
Bunny and I both ordered the pancakes and bacon.
The plates came with three stacks of pancakes. The pancakes were roughly dollar coin sized, perhaps three, four inches across, and less "pancake" and more "crêpe"—very thin, nearly translucent. And excellent, some of the best pancakes I've had.
And the bacon? Well, it's bacon. Bacon is always good. If this is the level of food we can expect, then dinner should be well worth the trip.