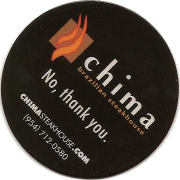 Uhg.
I ate way too much. I should have skipped lunch yesterday had I known about Chima.
I should have also kept the small disk on the "no" side more often.
The food was great going down. It wasn't so much fun coming back up.
Twice.
I emailed in sick, slept for nearly twelve hours (that is, after … um … cleansing my system) and spent the rest of the day recovering.