The roads around Orlando destroy your soul. By the time we got back to the resort, the bickering between Bunny and me over driving had driven me close to a breakdown. I came very close to skipping out on Blue Man Group but a few minutes of meditative silence gave me the resolve to brave the non-Euclidean Orlando roads once more (odd, since I wasn't the one driving).
In fact, until we were sitting in our seats waiting for the show to start, I was very close to losing it (I'm telling you, the roads around Orlando are eeeeeeeeeeeeeeeeeviiiiiilllll).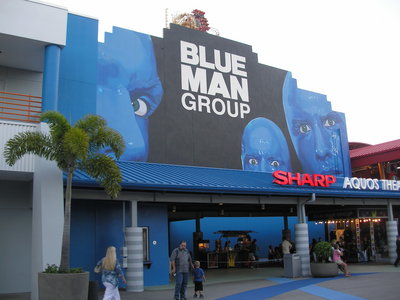 And I'm glad I went.
It's very hard to describe the Blue Man Group experience. It's part concert (bring ear plugs, or ask one of the ushers for ear plugs—there's a ton of drumming), part performance art, part comedy, part social commentary and part audience participation. The energy level is high and it's just this … incredible experience that you have to … um … experience live in order to "get" it.
The entire trip, the sucking vortex of ill-marked, multiply-named, non-Euclidean roadways designed by a disgruntled parking lot architect that is Orlando, the "eh" experience of the Salvador Dali Museum, the loudness of The Hard Rock Cafe (where Bunny and I ate dinner after The Blue Man Group—it was next door and still open), everything, was worth it just to see The Blue Man Group.