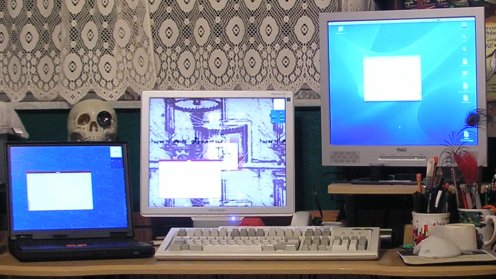 Synergy lets you easily share a single mouse and keyboard between multiple computers with different operating systems, each with its own display, without special hardware. It's intended for users with multiple computers on their desk since each system uses its own monitor(s).

Redirecting the mouse and keyboard is as simple as moving the mouse off the edge of your screen. Synergy also merges the clipboards of all the systems into one, allowing cut-and-paste between systems. Furthermore, it synchronizes screen savers so they all start and stop together and, if screen locking is enabled, only one screen requires a password to unlock them all. Learn more about how it works.
Synergy is a neat program if you have multiple computers at your desk (plus they need to be networked).
It's also easy to configure. All I needed to configure Synergy (which is run on each computer) was:

#
# See that picture above?  On the left is my laptop, 
# blackbox.  To its right is the monitor for my main 
# Linux desktop computer, lucy.  And to the right of 
# lucy is the monitor for marvin, my Mac Mini.
#
# This configuration maps the spatial layout of the 
# computers to allow Synergy to move the keyboard/mouse
# about the three computers.
#

section: screens
        lucy:
        blackbox:
        marvin:
end

section: links
        lucy:
                left  = blackbox
                right = marvin
        blackbox:
                right = lucy
        marvin:
                left = lucy
end

section: aliases
        lucy:
                lucy.roswell.conman.org
        blackbox:
                blackbox.roswell.area51
        marvin:
                marvin.roswell.area51
                Sean-Conners-Computer.local

end

There's more that I could configure (even remap the keys on the keyboard) but what I have above works just fine, and man, it sure beats having to hit ScrollLock-ScrollLock-0-1 or ScrollLock-ScrollLock-0-2 to switch computers. And the cut-and-paste between systems is just icing on the cake.