The Weekly Meeting™ takes place at a Panera Bread café near The Mall at Wellington Green and because there's a nice farmer's market in the neighborhood (well, given the distance I drive to get there, it's in the neighborhood) Bunny drove (since she wanted to shop at the farmer's market).
After the meeting as we're pulling out of the parking space, I notice two piles of books just sitting there in the parking lot. They're right in the middle of two facing parking spots, just inside the parking curbs (and here I wish I had my camera so I could have taken a picture). Bunny then notices that I noticed them, and stops the vehicle.
We were at a loss for what to do. Who leaves a pile of books in the middle of a parking lot? And it's not like they were piled at the end of a spot, because, say, someone was trying to rearrange the trunk before putting the books in—no, they were where the front of the car would be. And there're no bags or recipts or anything around or in the books to go on.
Very odd.
I decide to get out and take a look. A definite theme going on, what with books about the American Revolutionary War and the Constitution. There's even Tocqueville's Democracy in America. We look through the books, and while they all (with the exception of two) look new, there're no identifying marks about who might own them or how they came to be in the middle of a parking lot in front of a Panera Bread and a Barnes & Noble.
Bunny checked with the manager of the Barnes & Noble, but not only had no one bought such a large number of books today, they don't even carry some of those books in stock.
Well then …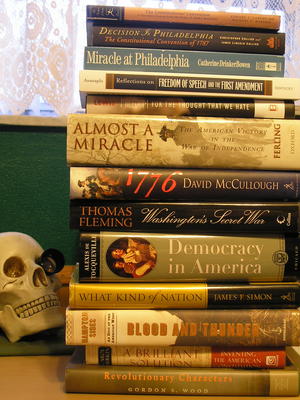 I guess we now have a baker's dozen books on American history, worth about $350.00, going by the prices listed on the books: