9:00 am. Checkout. Start driving home. Hardees apparently has the best biscuit breakfast sandwiches in existence.
I'm not a morning person, nor am I a breakfast person. It's my turn to order. "Are you serving lunch?" If I have to eat this early, it's got to be a cheeseburger.
"No. Breakfast only."
"Don't worry," said Gregory. "I'll take you to a Sonic after this. Here, take my keys," he said, handing me the fob for the car. "Check the GPS for the closest Sonic." I take the fob, and head out to the car.
The closest Sonic appeared to be five miles south of the Hardees we were in. But that's five miles further south than we wanted to be. I started looking for Sonics more-or-less on our way home, and was about give up when Gregory appeared.
"Kemo sabe," he said. "There's a Sonic on the other side of this Hardees."
"Oh."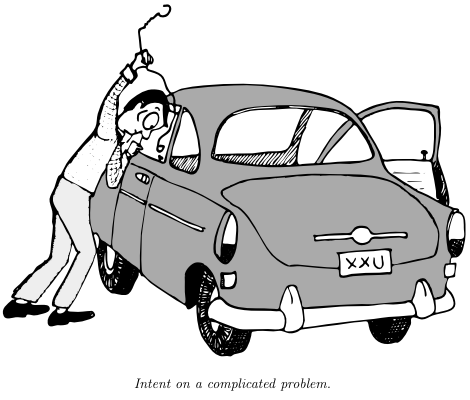 Yeah, it was teh early.
(Illustration by Leo Brodie)