"It's an early Christmas gift," said Bunny, as she handed me a ticket. "Get your shoes on, we're going."
"A ticket? For what?" I asked, as I looked down at it. "The Adrienne Arsht Center? Who's playing … oh. Okay, I'll get my shoes on right now."
An hour and a half later, we're being seated for "An Evening with Alton Brown."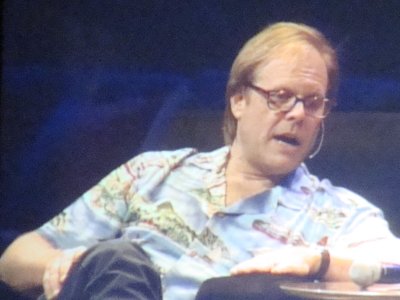 Amazingly enough, when we arrived, we found out our seats, which were in Almost-But-Not-Quite-Nosebleed section were upgraded to the No-Longer-Need-Binoculars-But-Not-Quite-In-Spitting-Distance section. We were also asked to fill out a form asking Alton a question, and eight lucky audience members who did would be selected and get to ask him their question directly.
Unfortunately, our questions (mine: "What does your real family think of your TV family?" Bunny's: "Where do you get those wonderful shirts?") were not picked.
The first half of the show he was interviewed by Michelle Bernstein, a renowned Miami chef (and winner of the James Beard Award), where we learned of his dislike of bottled water, his love of lime green leisure suits in high school, and that he does a mean Masaharu Morimoto impression.
In the second half of the show, he literally dumped all the bottled water out of the refridgerator onto the stage floor, broke the blender (which took two cooking students to fix), made Crêpes Suzette, and answered the questions of eight lucky audience members, where we learned that barbecue is America's contribution to world cuisine, his favorite Good Eats episode and that there will be no more Feasting on Asphalt (darn!).
All in all, a very nice Christmas gift indeed.
Update on Thursday, Debtember 18th, 2008
Okay, technically not an update as I'm writing this on the 18th, but well … anyway … another review of the show.