Bunny and I attended Pseudoscience in the New Millennium, a lecture given by James Randi.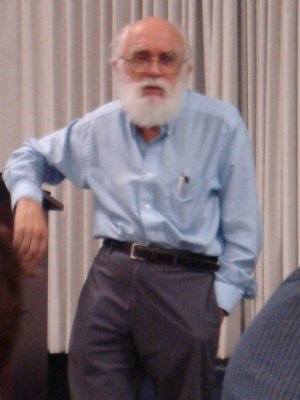 His lecture started out with him walking up to the podium, microphone in hand, and asking the audience to raise their hands if they considered themselves a "skeptic." And after the entire audience raised their hands, he proceeded to tell us that we weren't very skeptical since he's already fooled us. Twice. In less than two minutes. The microphone he was using? Not even turned on; we just assumed he was using that because he had it (his actual microphone was in his shirt). And second, the glasses he was wearing? They too weren't real. The point of that was to show that just saying one is "skeptical" isn't always enough.
And after that, he started his lecture, going into details about various pseudoscientific quackery, like homeopathy, spritual healers and psychic surgery (which didn't save Andy Kaufman), during which he performed a few magical tricks to keep us on our toes.
He also mentioned his $1,000,000 Paranormal Challenge, which no one has won since it begain in 1964. This prompted one lady during the question-and-answer session (she was the last "question" during the night) to offer Randi "proof" that spirits exist (and with this, she brought forward a huge carrying case with her "proof"), although she didn't really want his money (a common response from many applicants, according to Randi; a few members of the audience asked if she would donate the winnings to them). Randi humored her and told her to apply for the prize.
I doubt she will. I also suspect Randi feels the same, but I can't prove it.